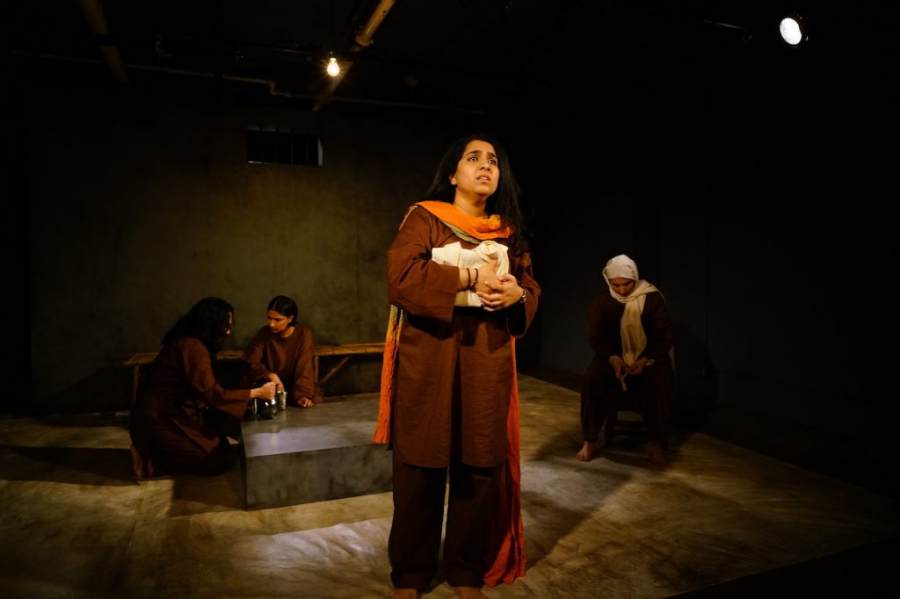 The Pan Asian Repertory Theatre's production of Shahid Nadeem's Acquittal is one of those gems where there are no costume or set changes but the audience stays entranced with the story and acting.
There was a full house on the night I attended and everyone was riveted throughout the 70 minute performances. And rightly so.
The play, written in 1987 when the Pakistani playwright was in exile in London, has been translated from its original Urdu to English by Tahira Naqvi and brought to the New York stage with Noelle Ghoussaini directing.
Four women of various ages and circumstances share a cell in 1980s Pakistan, under the Hudood Ordinances of President Zia-al-Haq, who had declared martial law on the country in the 1970s. Under Noelle Ghoussani's direction, we learn the story of how each woman arrived in the cell, some innocent, others not so much, but all with details of how their being discriminated against for being a woman is at the basis of their sentence.
Clad all in brown salwaar kameez prison uniforms, Zahida Zaman (played by Aizzah Fatima), Jamila (Gulshan Mia), Marium (Salma Shaw) and Jannat Bibi (Shetal Shah) all form a sisterhood, first out of necessity, then from actual care. Fatima serves as narrator and her character is the calmest, most rational one there. She is also the most recently imprisoned. Shah nails all of the grandmotherly gestures and expressions of a Pakistani naani with aplomb. Mia as Jamila is frightening in her passion, as befits someone imprisoned for murder, and her description of her crime is hard to take. That's how good she is. Shaw, whose character is pregnant from a gang rape, is energetic and expressive. There is a really touching scene where the women, all with remarkable singing voices, give Marium the new-bride ceremony she never received in real life. It bonds the women in the cell the same way it bonds women around the world, and was really beautiful to behold.
Located in a prison cell, the set by You-Shin Chen looks exactly like all of the public buildings I ever saw in Pakistan, even down to the watermarks on the wall. A single light bulb hangs down, and burns brighter or dimmer according to the tone of the scene. There is an excellent use of shadow per Leslie Smith's lighting design.
The entire production comes together very well to render this important play about life in a part of the world that is not studied much in Western nations. It is an important window into how women, many educated and anything but subservient, live around the world when discriminatory laws are in place.