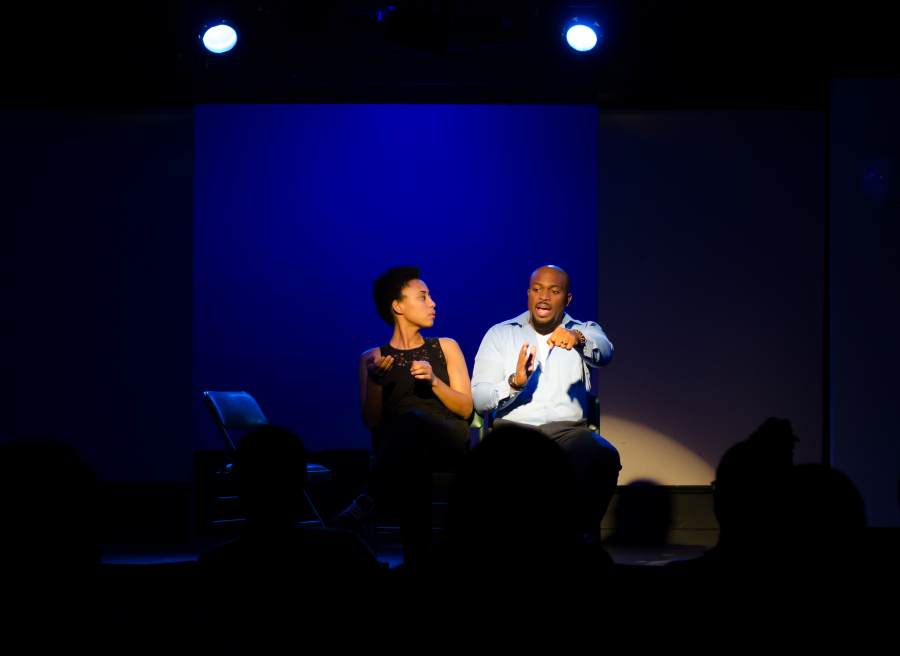 Choices & Consequences is a timely, touching and hilarious new play about a loving African-American couple dealing with infertility as they face the ups and downs of their personal and professional lives.
Written, directed and produced by Marlon Orlando Cole, the play centers around Dexter (N'Fa D'JbaThomas) and Angela (Charese Annel), a married couple with high-powered careers who can't seem to get pregnant. Annel and Thomas have great chemistry and deliver their fast-paced lines to each other like a professional tennis match.
In fact, the entire cast (also including Swavian Ian H Loney, LK, Thomas Duverne, and Iliana Paris) is adept at working together, presenting many believable characters who are always in the moment, reacting to each others' lines with precision. This is actually the crux of the play, as the set was made up only of chairs that were brought on and offstage as needed. But with the acting, narration (by Chris Carlock), lighting and sound, it was easy to believe they were on a flight to Jamaica in the same spot that had been a busy office just a moment before.
Dexter is a religious man who knows how to enjoy life, and a scene where he speaks to God about his and Angela's fertility issues was one of the most honestly written and acted I have ever seen. There are a lot of scenes, and characters seen in the beginning never show up again, despite having an interesting story line, such as Dexter's morally and financially bankrupt boss, Joe. He is in two scenes and they build up an amazing intriguing storyline that then disappears. The couple also goes on a trip to Jamaica and gets into all sorts of trouble. Then that never comes up again. In fact, only the second act had a story arc and could have well been a play all by itself.
Still, this work managed to capture the humor and sweetness of all the small moments of life as we realize that true love is by no means perfect or even permanent.