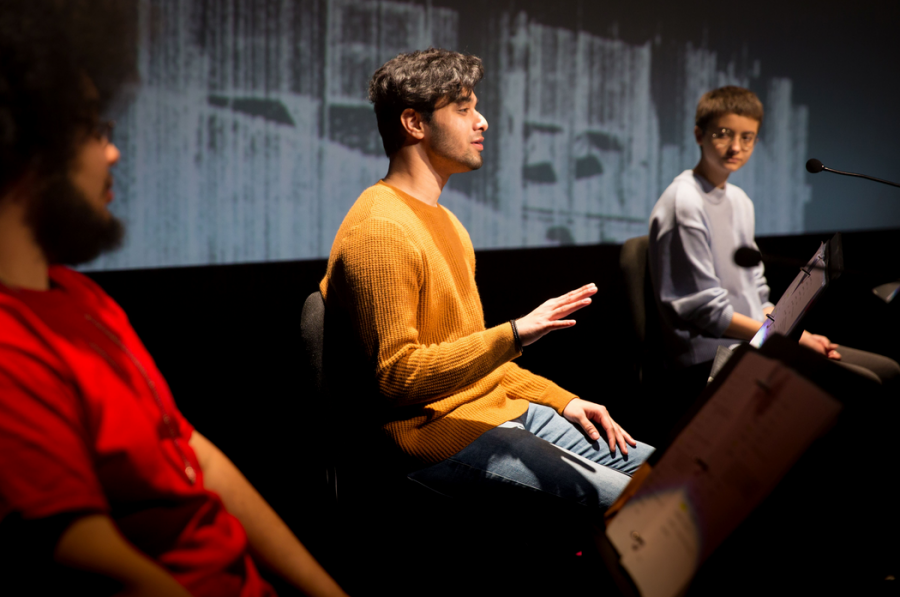 There is the idealized New York the world sees on film, and then there is the real New York the people live out every day. And no one lives it more fully than a young person whose greatest, and sometimes only, resource is their own resilience.
Seven young New Yorkers, all born in the latter half of the 1990s, openly share their personal stories in Undesirable Elements: Generation NYZ. In a spoken word presentation that has the cadence of 1960s Beat poetry, all of the artists show that, no matter how different their stories are, they are united in their questioning if anyone else can understand what they are going through.
The artists begin by telling their parents' and grandparents' stories, and how they tie in with New York City's history, including the Great Migration between 1916 and 1970 during which 6 million African-Americans moved out of the rural South to other parts of the country. All of these historical details show the continuity of how New York has always brought people from different walks of life together in ways that are unimaginable anywhere else.
In elementary school when the World Trade Center was attacked and in middle school when the housing bubble burst, all seven young people have lived through trying times on both a personal and national level. They tell of their struggles with immigration, depression, gender identity, homelessness and bullying, all without a trace of self-pity. Throughout their narratives, the audience realizes that, what with the ever-present cell phones, social media and "promposals", it is very lonely to be a teenager when you can not even have a pair of new shoes.
The cast weaves in cultural details from their families and communities, which are collectively of Black, Mexican-American, Nuyorican, Caribbean, South Asian and European culture and heritage. They tell their narratives in English laced with Spanish, French, Patois and Urdu. They give their audience a living anthology of New York for its youngest generation, and it is a marvel to see how much they have to say at such a young age, all while knowing that being of a young age is part of why they note so much of what happens to them and around them.
This production is recommended for ages 12 and up, and I saw many school-aged children in the audience listening raptly to a 70-minute show that relied mainly on spoken word. That is a powerful work of art.
The show is conceived by Ping Chong, and written and directed by Sara Zatz and Kirya Traber in collaboration with the cast including Edwin Aguila, Monica Victoria Tatacoya Castañeda, Syl (Andrea) Egerton, Mohammad Murtaza, De-Andra Pryce, Porscha Polkahantis Rippy and Rafael Rosario. The production team includes Marika Kent (lighting design), Katherine Freer (projection design), Courtney Golden (production associate) and executive director Bruce Allardice.