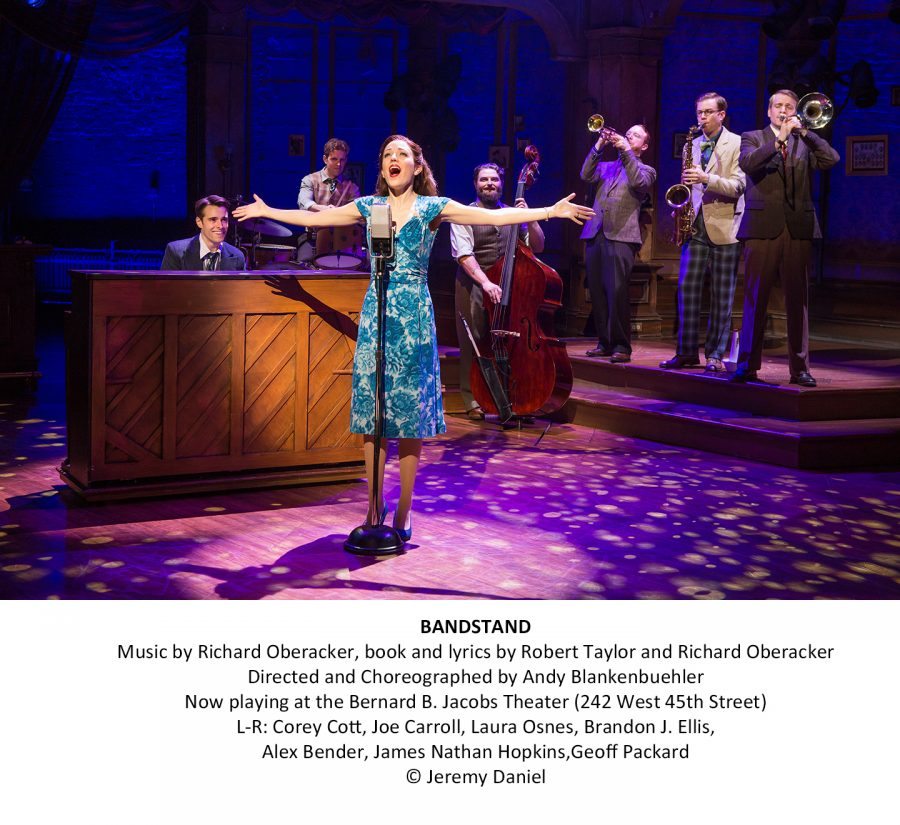 Bandstand, now playing at the Bernard Jacobs Theatre, has all the ingredients necessary to make a Broadway hit: catchy songs that stay in your head long after the cast takes their bow, extraordinary choreography (what more could you expect from Tony winner Andy Blankenbuehler?), and a captivating story of war, love, and perseverance.  In the 20th century, this show might have been considered groundbreaking for its explicit, authentic, and often very dark portrayal of the reality veterans face when they come home from war. Today, although undoubtedly an excellent piece of theater,  there seems to be something somewhat dated about it. Perhaps it's the somewhat sexist portrayal of women, or the homogeneity of the cast (which in all other ways in truly superb). One could argue that both of these elements are simply testaments to the authenticity of the show within the time period in which it takes place. With that mentality in mind, there are countless highly enjoyable aspects to Bandstand.
It seems like Blankenbuehler's versatility and talent know no bounds. Here, he employs movement that is classic and traditional to the era of the show, while also maintaining his unique touch.  As always, his staging is inventive, strategic, and  brilliant, and he finds ways to incorporate little outbursts of movement that not only keep things moving, but also develop the story and the world of the piece. Some of this credit must be given to the ensemble, which, despite the incredible talent of the principle characters, in many ways steals the show. Two standouts are Ryan Kasprzak and Max Clayton, both of whom, in addition to being wonderful dancers and actors, bring enormous specificity, presence, and energy to their performances, so much so that it's almost impossible to take your eyes off them.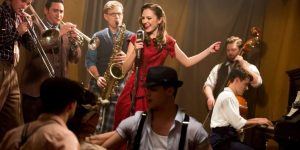 The cast as a whole is noteworthy. Corey Cott, arguably one of the most attractive men to ever grace a Broadway stage, also happens to be a fantastic actor, who brings depth, vulnerability, and rawness to Donnie Novitsky, a role that, in other hands, could be fairly one-dimensional. He plays opposite Laura Osnes, who is charming and lovely as Julia Trojan. Broadway veteran Beth Leavel masterfully portrays Julia's mother, Mrs. Adams, who could be completely unmemorable should Leavel not be the actress embodying her.
And one must laud the casting team that found the other musicians who make up the Donnie Nova band, played by Alex Bender, Joe Carroll, Brandon James Ellis, James Nathan Hopkins, and Geoff Packard. Each of them is as high-level in his musicianship as he is in his acting and singing abilities.
Don't be fooled by its occasional cliche and predictable moments. Although it's possible that you'll foresee a plot twist, embrace it, as Bandstand is just as likely to jolt you alert, reduce you to tears, and ultimately, bring you to your feet.