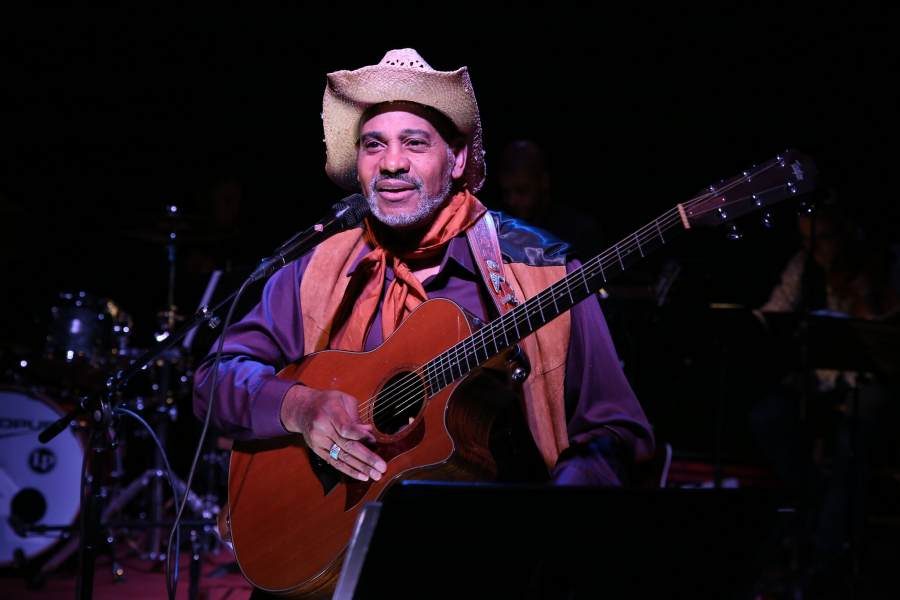 The incredible story of a slave turned cowboy comes to life in Cross That River, a musical composed by jazz artist Allan Harris, with a book by Mr. Harris and Pat Harris, and directed by Regge Life. The show, performed concert-style at 59E59 Theaters, features a mix of jazz, blues, country and R&B, making it a true paragon of the American musical.
Cross That River is narrated by a man named Blue (Harris), born on the McLaughlin Plantation in Louisiana around 1845, close to the river that separates Louisiana from Texas. Young Blue (Jeffery Lewis) works in the stables, where he becomes close to the master's daughter, Courtney (Carolyn Leonhart), despite warnings from the overprotective Mama Lila (Maya Azucena). But his love affair with Courtney can't keep him from his true dream: to cross that river into Texas, where he could become a free man.
As he travels west, Blue's story is tied up with the various characters of the American frontier--the cowboys responsible for dozens of cattle; the saloon hall girls offering a good time and respite from hard labor; the Mexican prostitute (Leonhart), who spends a passionate night with Young Blue--all painted with a bright and cheery brushstroke so as not to suggest anything too unseemly. The only troubling stories are of Annie, the mail order bride brought to Abilene, Kansas and an abusive husband; and the Comanche natives, who Blue meets in his service with the Buffalo Soldiers, charged with returning them to the reservation where they were starving. Upon seeing their plight and hearing their sad story, Blue and his comrades leave them to return to their land.
Just as fascinating as the tale, the musicianship of Cross That River is rock solid. The band, consisting of Alan Grubner on violin, Miki Hayama on keyboard, Seth Johnson on guitar, Shirazette Tinnin on drums and percussion, and Jay White on bass and vocals, creates a rich tapestry onto which the impressive vocalists weave their gorgeous story. It's nearly impossible to single out any one musician as they all stand out in their artistry.
Rivers in literature often mean an adventure; think of Huckleberry Finn and his journey on the Mississippi. The river in Cross That River signifies the removal of a slave's chains; to cross that river is to cross from bondage to freedom. Blue's journey is not without its trials and tribulations but his story is ultimately one of hope.