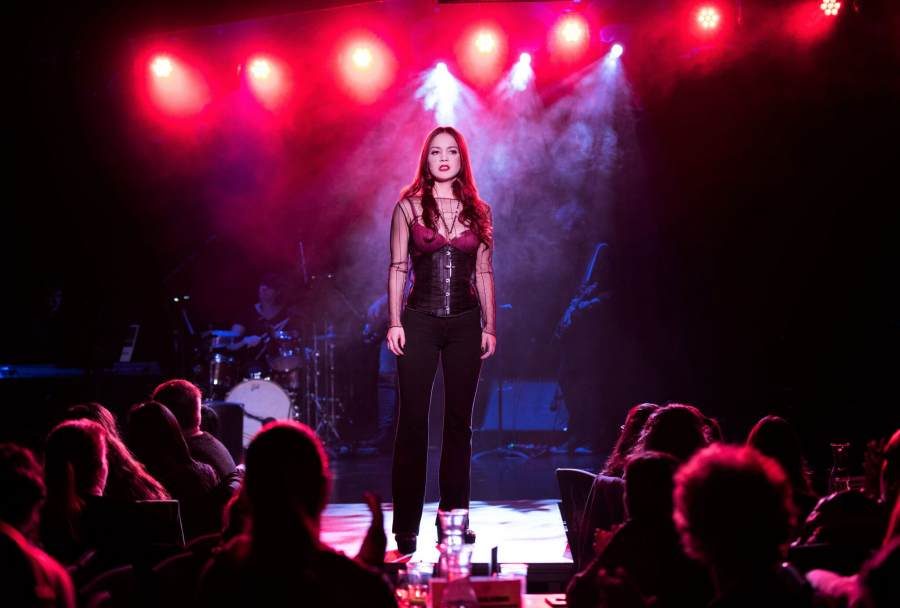 If you love '90s pop — and if you don't, really, just get out — then you will probably have a super fun time at Cruel Intentions The Musical, a remake of the '90s film adaptation of Dangerous Liaisons, full of fun high school sex and drama, at the venue (le) Poisson Rouge. The musical by Jordan Ross, Lindsey Rosin and Roger Kumble is fundamentally a pop show contextualized by this story we all know and love. It's a fun evening, cute, just a wee bit sexy, and super silly.
The bones of the story are told (if you don't know the legendary tale of Cruel Intentions you'll at least get the gist of it), but the story is really there to provide a context for the performance of our favorite '90s pop songs. They've got the Goo Goo Dolls and The Verve and Counting Crows and R.E.M. and Ace of Base and TLC and Jewel and Backstreet Boys...it's fun! The characters we know from the movie perform the songs in the context of the story, illuminating the inner life or emotions of the singer or situation.
Pop music suggests general feelings no one really has -- humans are too troubled and nuanced to feel such broad things -- but when directly pointed to, these ideas-of-feelings become so easy to apply to our own experiences it is nearly tantalizing. When conveniently expressed through super digestible riffs and the most memorable rhythms, well, there's no use fighting against them, and that's when you get a successful pop song.
By structuring these famous pop songs within a story that's fun and sexy and essentially a pop show itself -- a show with large, dramatic ideas that are easy to understand and that we all can imagine relating to -- those songs now carry the significance of a situation, providing it depth. For instance, Sixpence None the Richer's "Kiss Me," is performed in a scene of a first kiss, so the performance of the song carries with it the characters feelings of the situation. Deep Blue Something's "Breakfast at Tiffany's" is a better example as it shows how the pop song doesn't just buttress the story, but the story can also help elucidate the pop song. Everyone kind of knows that song is about a budding romance, but no one really cares, sort of feels it, and just sings along with the chorus. But within the Cruel Intentions story, performed by characters in a budding romance themselves, the song gets to fully perform its function.
And it's also, like, super fun and funny, these pop songs in these situations. Many of the lines from the movie are in the script (for all I know they all may be), which is also fun and rather satisfying. This is a satisfying play: hearing the lines we love, predicting or being surprised about the songs they choose to include. In a way, this is as close to a 'sure thing' performance you are going to find. If you are about that '90s pop life, you'll love it.