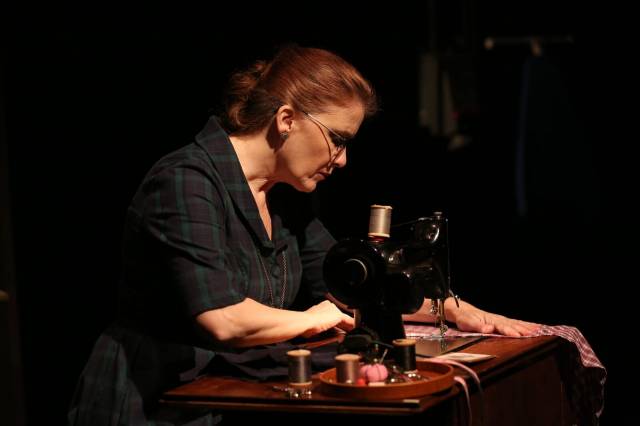 Director Roger Simon brings to life a story of hidden pasts, secrets, and hope for a better future through acceptance of that which we cannot change, and the strength we find to change what we must. Now playing at 59E59 Theaters, The Dressmaker's Secret, based on Mihai Grunfeld's semi-autobiographical novel, The Dressmaker's Son, takes place in 1960s Communist Romania where a 19-year-old on the brink of manhood lives in cramped quarters with his dressmaker mother, Maria (Tracy Sallows) and seeks answers to his own personal history and freedom from his oppressive surroundings. Young Robi (Bryan Burton) longs to leave his confining lifestyle behind him and head west, but not before finding out who his father was. Maria reveals to her son that his father was not killed in action during WWII as she'd always led him to believe, but instead, may in fact be either a Jewish teacher she hid during the war or the Hungarian soldier who persecuted him – her fiancé at the time, who has now returned unexpectedly after a 20-year estrangement.
Skillful playwrights Sarah Levine Simon and Mihai Grunfeld allow these scenarios to unfold with such finesse that one is easily transported to another time and place. Director Roger Simon uses his experienced hand to gently maneuver his actors along in this well-executed story and expertly peels off each intriguing layer with perfect timing and pace, keeping the audience intrigued from start to finish. His actors clearly understand the history of their characters' relationships with each other and it shows. Burton as
Robi captures the struggles of an adolescent young man at a crossroads in his life perfectly. He is sensitively attuned to his body language and convincingly portrays his often strained relationship with his mother. As his mother, Sallows in turn effortlessly provides Maria, a warm, working-class woman, with a real presence and depth. Caralyn Kozlowski as Irma, Maria's childhood friend and once future sister-in-law, brings both a breath of fresh air and intrigue, which Kozlowski handles with ease; she is a pleasure to watch. Robert S. Gregory is always magnetic to watch in anything he does, and particularly so in the role of Robert, Maria's ex-fiancé. Gregory has a natural ability to bring all the nuances of his characters to the forefront, creating show-stealing moments.
Some answers are revealed, while other truths are to remain forever unknown, but bravery and fortitude shine through the common man, leaving us feeling both satisfied and comforted knowing that a brighter future for all the characters can be possible. The Dressmaker's Secret is one secret you'll want to share.