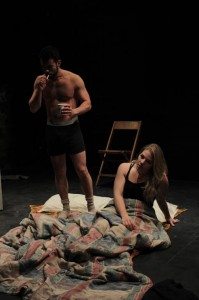 Fairy tales are hot stuff.  Fractured within the surreal landscape of Rocky and Bullwinkle, probed to menacing depths by Bettelheim, and reconfigured to suit the irony and artistry of Sondheim, it would seem, in fact, that there isn't much left in the way of spin for the weary fable. Some hand-clapping, then, to the StrangeDog Theatre's production of "Enchanted Arms", enjoying a brief and subterranean run at the Under St. Marks Theatre.  These four little plays go where fairy tale spin has not, to our knowledge, gone before (that TV thing "Grimm" doesn't count), and invert the whole damn genre.
Whence the inversion? Well, we are witness to events within a seedy -- and presumably Lower East Side -- apartment building called...yes, that's right, the Enchanted Arms.  The time is the present, a reality confirmed by the word "fuck" being tossed around so much, we kept checking to see if Mamet was the author.  "Fits", our opener, is not about seizures, but is rather an angst-driven scenario of a prince-y dude and his Ella, who would really rather not clean anything ever again.  The play manages to be simultaneously engaging, cynical and oddly idealistic -- no small feat. Tony Knotts nicely restrains his prince's bitterness, Brittany Sambogna has just the right rage kept in check by True Love, and Michelle Lupo nearly runs off with the show as Steph, a (cough) stepsister.  Regrettably, director Artem Yatsunov permits Tracy Shar as the wicked -- and horny -- stepmother to play every line as camp so high, her flapping hands nearly whack the ceiling.  The character, Mr. Yatsunov, is writ as parody enough by Ben Clawson. (Who, for the record, knows how to write a short play.)
From here, things get very dark with John Wooten's "Temptress" because, for us, dark is a girl so desperate to escape a life of forced prostitution, she scales the building by -- you guessed it -- her own hair. Shannon Sullivan and Gary Martins underplay, God bless them, which saves the play from gritty mawkishness. Joseph Palestina's "W" follows and we swear we are unable to connect the story to any damn fairy tale -- all that comes to mind is a semi-comic version of Salinger's "Pretty Mouth and Green My Eyes".  Last we get "Pastiche" by Stacie Lents, and we get frustrated as well.  There is a good little play in here somewhere, and reason to perceive a Rumpelstiltskin theme in drama because, well, some people are manipulative. Unfortunately, the writing isn't tight enough or the play isn't long enough, and Lee Ann Hoover and David Hoffman fail to establish anything like a performance rhythm.  One feels for Hoover; Hoffman doesn't just not inhabit his character -- it's as though he can't wait to lose the guy on St. Marks Place.
Some hand-clapping, then. No foot-stomping, however, because the evening is just too uneven. Also: the choreography introducing the show and popping up between plays is tribal, funky, a tad embarrassing, and extremely, extremely pointless. Still. All carping aside, we say: go.  There is some real talent in this basement, raw-ish theater is supposed to be flawed, and we would like somebody to explain the fairy tale connection in the third piece.