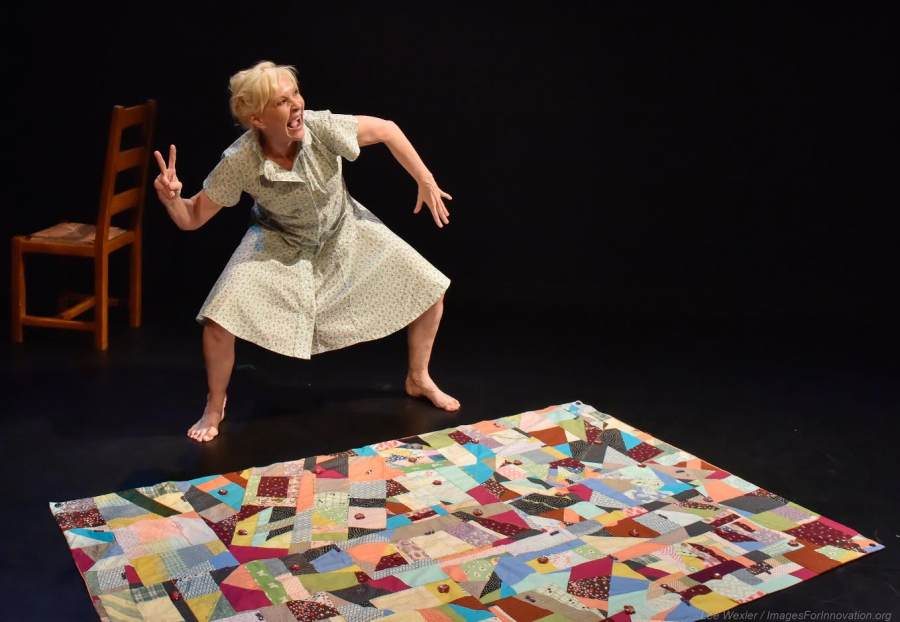 Jennifer Jewell's solo show Goblin Market is headed to the 2017 Edinburgh Festival Fringe later this summer. But first, Jewell performed her solo show at 59E59 Theatres in NYC. And if the Edinburgh audience is as captivated by Jewell's performance as I was, then she's poised for success.
Christina Rossetti's narrative poem "Goblin Market," written in 1862, tells of two sisters -- Laura and Lizzie -- who encounter a group of goblins selling wondrous fruits in every variety. Steadfast Lizzie knows that the goblin's wares are perilous and only bring sorrow; but Laura, curious and longing, samples the goblin's treacherous fruits. The next day, Laura no longer hears the goblin's calls, and, yearning for more of their wonderful fruit, she falls ill and seems in danger of death. Courageously, Lizzie decides to confront the goblins in order to save her sister's life.
Jennifer Jewell plays both sisters and all five goblins as she recites and enacts Rossetti's poem. Jewell and her collaborators, director Mark Cabus and co-director Patrick Mulryan, have changed the piece's setting to the Smoky Mountains and added a score by Chris Tench that reflects Jewell's Tennessee mountain upbringing. Choreography by Allison Plamondon and lighting by G. Warren Stiles further contribute to the show's smooth pacing and fairy tale-feel.
With minimal props -- a chair and a quilt -- Jewell creates a bright, richly textured world full of wonder, peril, and sisterly love, which she navigates smoothly using movement, expression, and voice. Her performance renders the goblin men as fantastical creatures, by various turns amusing and frightening. Laura degenerates from free-willed and full of life to weakened by addiction. Lizzie is, of course, strong-willed and compassionate, full of selfless love for her sister, which Jewell radiates in a lovely performance as Rossetti's steadfast heroine.
Beautifully worded and masterfully told, the true brilliance of Rossetti's poem is its variety of meaning: the story can be interpreted on multiple levels. While Jewell's Goblin Market is by no means heavy handed in doling out a moral for the audience, its sensitivity and richness render it relevant and accessible to nearly everyone in every walk of life. Younger audiences will probably enjoy the whimsical goblin men and the tale of brave Lizzie, while older audience members may find that the elements of addiction, redemption, and sisterly love resonate strongly.
I, at least, found the ending especially touching. Grown-up women now with children gathered around them, Laura and Lizzie relate the story of the goblin men to their own daughters. Oddly enough, the message is not so much about avoiding temptation as it is about the strength and power of the bond between sisters:
"For there is no friend like a sister / In calm or stormy weather; / To cheer one on the tedious way, / To fetch one if one goes astray / To lift one if one totters down / To strengthen whilst one stands."