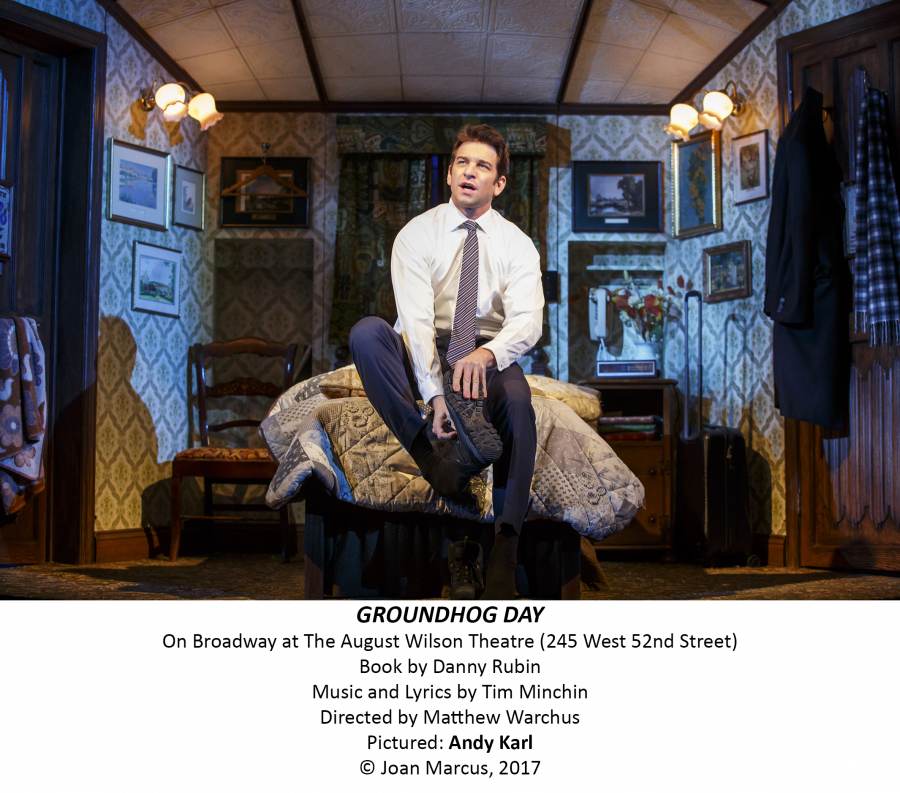 It's not déjà vu. After a hit run in London, Groundhog Day, based on the 1993 film of the same name, has made its way to Broadway. Its treatment of the source material is duly deferential and just different enough.
For those who've missed the film's annual 24-hour block on TBS, Groundhog Day is the story of Pittsburgh weatherman Phil Connors (an outstanding showcase of endurance as played by Andy Karl), a man allergic to provincialism who finds himself stranded in the backwater of Punxsutawney after doing a remote on the most famous rodent weatherman, Punxsutawney Phil. But Phil (Connors, that is) isn't just stuck in the town—he's stuck in the day, doomed to wake every morning at 6:00 AM and repeat February 2nd ad infinitum. Along the way Phil tests the limits of the loop, cheats death (in a "Creed"-sounding suicide ballet) and comes to gain an understanding of the tiny town all while trying—and failing—to court his producer Rita Hanson (an electric Barrett Doss).
In 2017 the musical can be read as a parable of a liberal elite's visit to Trump Country ("Tiny minds, big mouths, small ideas," Phil croons on his first of many mornings there.) Sonically this theme makes for an eclectic score by Matilda composer/lyricist, Tim Minchin. Americana from folkish hymns like the all-company "There Will Be Sun," "Small Town, USA," a march, the novelty song "Punxsatawney Phil" and redneck rock like "Nobody Cares" feature alongside Phil and Rita's more rock, jazz or American Song Book-timbered songs. Of course, this material is ripe for reprises.
True to Minchin's stand-up (or well, sit-at-a-piano-and-play-funny-songs) background his lyrics are clever and often Sondheimian in their rhyme scheme. Only one tune feels gratuitous and out-of-place: the strangely meta-theatrical Act II opener "Playing Nancy", sung by a woman (Rebecca Faulkenberry) whom Phil beds through subterfuge. The number feels like it was included to defuse a more explosive beginning post-intermission—you'll see—and lend a third dimension to a character that doesn't need one.
The book by original screenwriter Danny Rubin wisely doesn't interfere much with the baroque construction of the film, but is punched up and updated unobtrusively, even as the quaint townscape-fringed sets by scenic and costume designer Rob Howell are fittingly time-warped for their locality. As for the locals, a capable ensemble skew time to the backwards churn of a turntable with Peter Darling's graceful choreography and director Matthew Warchus' inventive staging, which uses everything from puppets to RC Cars to illusions designed by Paul Kiev. With winter on the wane, the groundhog can quit seeing his shadow and welcome the sun. Groundhog Day's a bright spot.