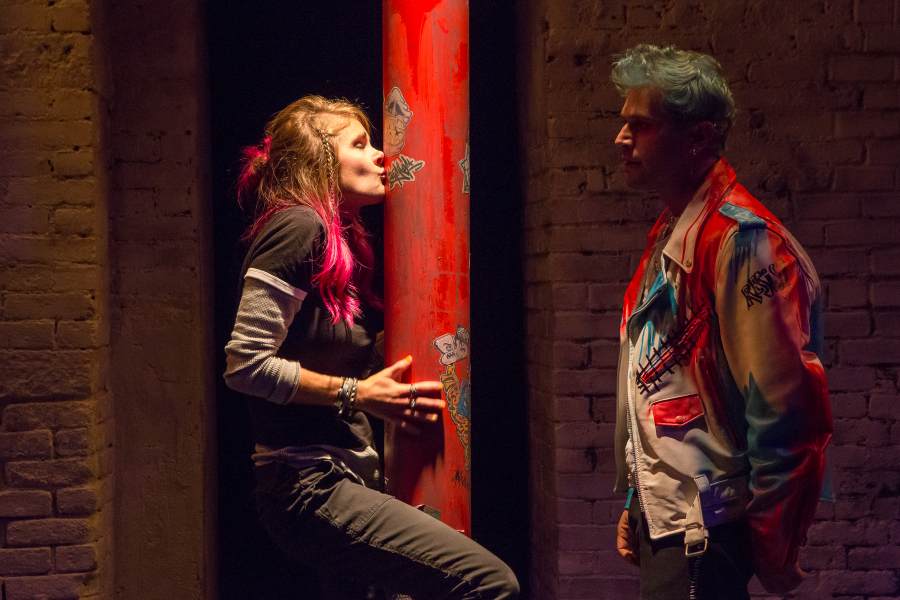 Inanimate is a somewhat misleading title for such a buoyant, funny, and heartwarming journey of self-acceptance and love. Nick Robideau's play directed by Courtney Ulrich makes its world premiere at The Flea's new, beautiful performing arts complex in Tribeca. Each laugh is genuine and plentiful. Each emotional moment is sincere and pitch perfect. We follow Erica (a hilarious yet sensitive Lacy Allen) as she navigates love with Dee (Philip Feldman). He makes her feel like the best version of herself, a person less alone and seen. He shines a light on her -- literally and figuratively -- because he's the "D" of the Dairy Queen sign in her small town.
Erica has what is called objectum sexuality. She's attracted to objects, instead of humans, and she feels more connected to them than her sister Trish (Tressa Preston) or anyone else in town. She talks to a can opener, a lamp, and a stuffed animal toy -- all animated by key members of the Flea's resident acting company, The Bats, who, as various characters throughout the play, are truly dynamic talents. As the "inanimate" objects, they comfort her, encourage her, and even arouse her. When the can opener speaks to her, he (Michael Oloyede) enters the stage in mesh, leather, and chains, like a sexual fantasy breathed to life.
The relationship between coworker and high school acquaintance Kevin (a fantastic Maki Borden) and Erica, as they open up to each other, expose their vulnerabilities, and ultimately accept themselves and the other for who they are, grounds the play in beautiful truths of self-authenticity, understanding, and a rejection of labels.
Although the premise acknowledges the humor inherent in being enamored with objects, i.e. the previously mentioned fetishized can opener or Erica's lustful fever as she presses herself against the Dairy Queen sign, Robideau treats his characters and subject matter with a sincere respect and compassion. He emphasizes the importance of community while feeling isolated in dealing with disappointment or grief. It's necessary not only to have community, but a community comprised of relationships built on honesty. Most important, however, is that this honesty must begin with the self. Then, and only then, can it expand to others.
It's heartbreaking what is broken in this journey, but it is emotionally true: those who support us might not be who we thought they would be, but they are ours.
I initially thought the play was ineptly named because of its powerful verve, but now, I realize it is perfectly fitting. If we're only living as stoic representations of what others want us to be or putting a label on ourselves and waiting for life to take us off the shelf, then are we really living? Before Erica accepts herself, she's just as inanimate as a neon sign.