Review: Wandering Theatre Company's Devastating Production of 'The Laramie Cycle'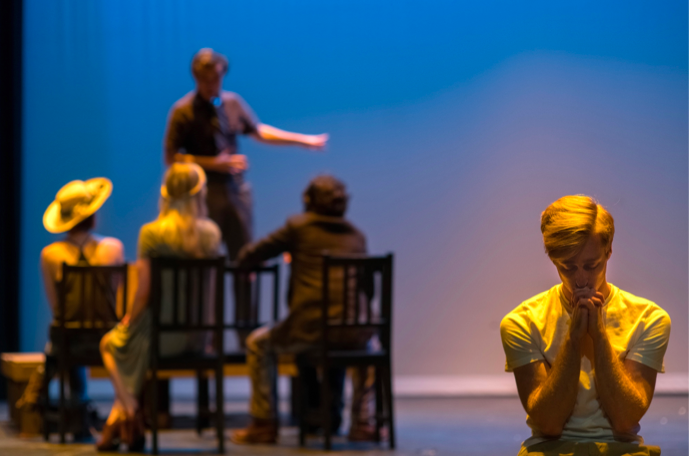 The Laramie Cycle has a devastating new production mounted by The Wandering Theatre Company here in New York City. It's a bold, fresh take on the classic original play cycle. Company members bustle about moving props and scenery, here, but they also create montage after montage during the course of the two-part play series reminding us that Laramie, Wyoming, like New York City, is rife with gossip, personal crises and a brilliant artistic community.
The entire play cycle revolves around the tragic murder of Matthew Shepard and the trial that occurred in its aftermath. The text is gleaned from a series of interviews given by Moisés Kaufman and his theatre company to the inhabitants of Laramie, the town in which Matthew lived and died. It was a stunning moment in our nation's history, captured by the young brilliant artists who are also characters in the play.
The monumental undertaking of The Laramie Cycle by this young and dedicated company of players takes your breath away is astounding. What takes your breath away is how committed this company is to performing this work of art because they believe in the material and what performing it will do for all of us as a community of artists.
The sensitive and superb direction by Natalie Villamonte Zito was very smartly executed, placing us right where we needed to be to grasp the enormity of this tragic play. All of the women in this cast were spectacular; special kudos to Carol Copper, who brought an authenticity to each of her roles combining gravitas with effortless grace.
In every tragic play, you need an actor who isn't afraid of a comedic moment or two to lighten the proceedings when the need arises. In this production, that actor is Andrew Benvenuti. He's full of moxie, smoothly transitioning from taxi cab driver to Catholic priest. He's honest, straightforward and precisely what I'm hoping to find in a young actor: lots of hustle, lots of smarts, lots of heart and intrinsic comedic timing to die for.
John Squires as Matthew Shepard's father, Dennis Shepard delivers a ravishingly beautiful performance. The final moments of the play, when he's at once eulogizing his son and admonishing the murderers, are breathtaking. Craig Jameson as Moisés Kaufman invites us into his innermost thoughts, admitting that he is stunned by the small town and its complexity. It's heartfelt, simple and direct, and his work elevated the proceedings without sentimentality. Finally, Adam Davidson appears throughout the play as the ghostly figure of Matthew Shepard, himself. It's a lovely, nuanced performance, kinetic and visceral, giving us a silent perspective of Matthew's thoughts upon the proceedings.
Rounding out the talented young cast with heartfelt performances are Anni Epstein, Brittany Halls, David Hentz, Danny Grumich, Harris King and Kendra McNaulty. Evocative set designs by Jak Prince and excellent lighting design by Matthew Kurzyniec set the stage beautifully, helping us focus our attention during the evening's performance. Don't miss this tragic, sparkling tribute to Laramie and its inhabitants, see it if you can.
For more information and tickets visit: https://www.thewanderingtheatrecompany.org