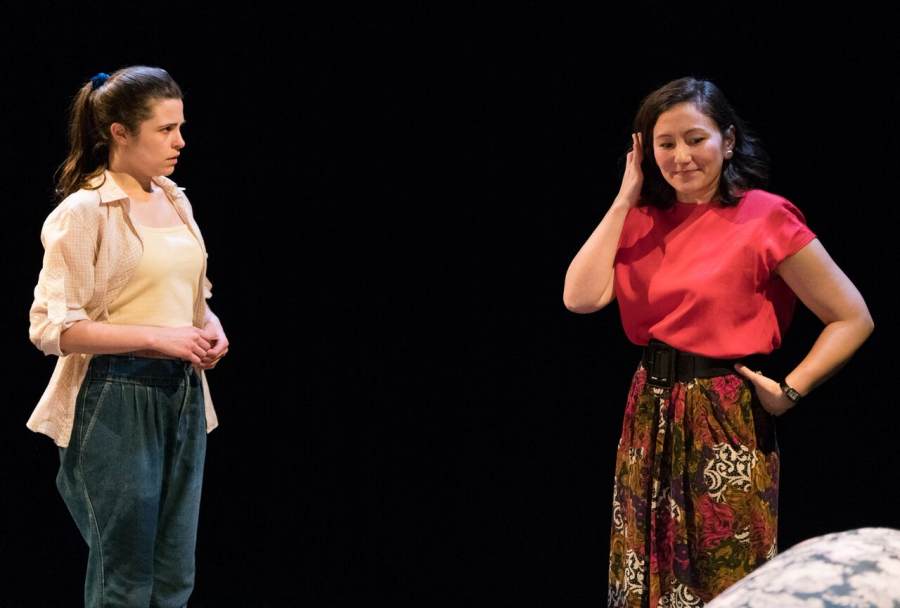 I cannot think of a time that I've seen a more prescient piece of theatre than Sheila by The Associates, playing now at The A.R.T./New York Theatres. This dedicated company of players has mounted a devastating play that encompasses core concepts from both the #MeToo and Time's Up movements.
At the play's opening we find Gloria, who has just returned to a furnished apartment in her hometown. Not long after her arrival, she is visited by an old friend, Mary. As the two young women navigate their way through the awkward homecoming with tentative questions, we see a glimmer of discomfort in their newfound proximity. Gloria's stunning abandonment of their friendship years earlier has taken a serious toll on them both; the vacancy created in their lives will be challenging to negotiate. It's not just that they've grown up; they've grown apart and they are very different people. Mary, now an R.N. at a local hospital is full of duty. Gloria is a free spirit. Eventually Mary reveals that she has come to ask Gloria why she suddenly left town years ago to live on a commune. Gloria's answer is chilling.
At the center of this devastating work of art is Sheila (played powerfully by Emily Stout with an intensely kinetic charge). Sheila is a startling, staggering abandoned soul, created in the minds of two young girls who eventually become young women. Sheila serves as a haunting, vibrant questioning of where all women are today -- especially those who've suffered at the hands of men who mistreat them. I'll bet there are as many interpretations of the figure of Sheila as there are playgoers, so I won't be too didactic here, but I found her image an emotionally thrilling component to the riveting drama. This is a play about how we are all shaped by our parents and at times abandoned by our closest confidantes -- mirror images of our innermost selves.
Gloria is played by Lauren LaRocca, with a winsome, earnest and heartfelt performance that was very engaging. Throughout the evening she kept her energy high and lent a strong hand to the comic aspects of her character's discomfort. Her painfully intimate phone call with members of her family back in the commune wound each of us in attendance around her little finger. LaRocca's right on point for with this kind of work, moment to moment, but with the volume turned up a notch to help us laugh.
Peregrine Teng Heard gives a standout performance, her complete immersion into the character of Mary is undeniable. Heard is also the Artistic Director of The Associates, which is frankly remarkable. She is a real find, her work is full of pathos, her comedic moments land beautifully, but it's her emotional performance once all the truths of the evening are revealed that moves us to tears. What I found so impressive is that this young artist knows how to trust her audience. Heard is mercurial in the role, moving swiftly from pain to joy, trusting that we'll follow her where ever she wishes to take us. She's right.
Kudos to Jamal Abdunnasir for clean direction which allowed the spectators to enjoy the work of this fine company through what could have been a difficult dark journey; he keeps the proceedings light and airy. Set design by Brittany Vasta was effective and evocative, bringing us back to the '80s with aplomb. Lighting design by Victoria Bain and Tyler First, sound by Mark Van Hare, props by Michaela Whiting and the excellent stage management by Emily Fischer all served to elevate the proceedings. If you want to experience a truly magnificent young company in possession of a terrific script, see Sheila at A.R.T.