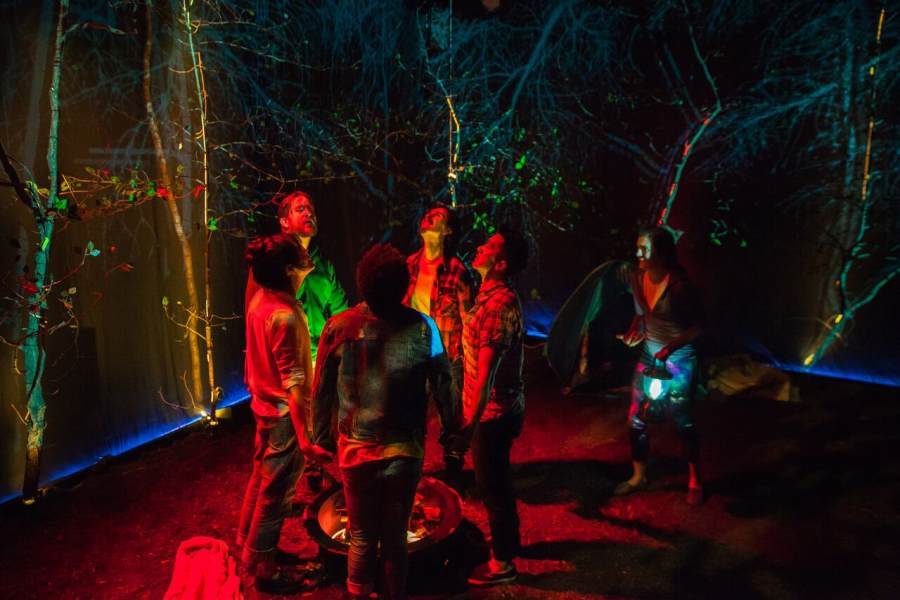 Solstice Party!, presented by Live Source Theatre Group, poses an interesting question over the course of its examination of true love (which never did run smooth): Is love a midsummer nightmare or an edible weed trip? In this play at A.R.T./New York Theatres, playwright Susan Soon He Stanton creates a draconian world where words and music conjure unseen forces from which no lover's heart is immune.
At the play's outset, we find Pipi and Andrew setting up camp near the home of friends Dominic and JoAnn. Both couples are having relationship issues. Pipi (played with patrician anxiety by Phoebe Dunn) has lied to Andrew (played with a musician's precision by Chris Ignacio) and sent him off to his grandmother's funeral as high as a kite. Dominic, a French restaurateur, and his partner JoAnn have invited their friends to join them for a party on the Summer Solstice, but they too have grown weary of one another. Dom (played with casual grace by Patrick Andrew Jones) and JoAnn (played with comedic wit by Satomi Blair) have recently lost their restaurant and have moved upstate to survive financial hardship. They've relocated themselves next to an Ashram, which we eventually learn is something much more sinister. There are a couple of loners, Stan and Trish, who we learn have both lost partners to the Ashram community across the lake, a murky, dangerous body of water where many victims have drowned. Stan (played by Michael Vitaly Sazonov in a standout performance) is grieving the loss of his newest love and Trish (played with dignity and vulnerability by Stephanie Weeks) is also missing her partner. Through tragic storytelling and songs around the campfire, we get to know these young, altruistic people and begin to comprehend that something is terribly, terribly amiss. Hallie Hadara arrives late on the scene as Ashley, Andrew's former girlfriend, and with unaffected delivery brimming with comedic timing she's both scary and very, very funny.
Ambitiously living among such works as Hand to God, The Pillowman, Black Swan, Stranger by the Lake, A Midsummer Night's Dream and Twin Peaks, Solstice Party! asks a lot of questions. (There's a strong design element to the production at work here -- kudos to Bryce Cutler (set), Kevan Loney (projection), Mary Ellen Stebbins (lighting) and Adrian Bridges (sound) -- so I'm deliberately mixing stage and film references.) Using metaphors for places in our mind, presenting us with archetypes and stereotypes, this playwright defies convention. Susan Soon He Stanton has written a play that I found stuffed with ideas; it's a thrilling and compelling cauchemare and it left me wanting more.
Tyler Mercer, whose direction is an invigorating force, is asking us some questions here along with the playwright: What is our relationship to danger? Is it a challenge to swim in the murky depths, or simply a tragic mistake?  It's a scary play (thanks in part to the mellifluously eerie Shannon Haddock), and folks were jumping in their seats and giggling their fright away. I look forward to more compelling and dynamic work from this company and director with big ideas and even bigger creative energy. Take a risk, abandon your fear and hike out to see Solstice Party!