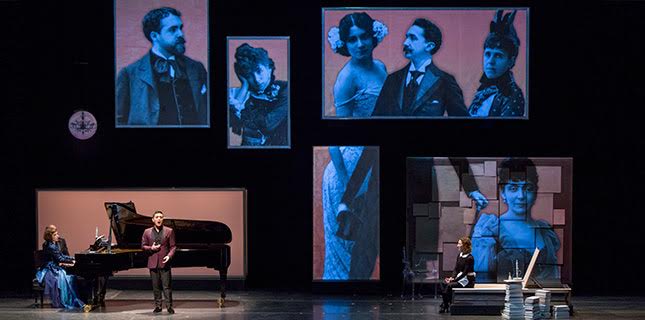 Sarah Rothenberg's exquisite A Proust Sonata: 7 Tableaux En Musique debuted January 10th at The French Institute's Florence Gould Hall, produced by Da Camera of Houston Productions. It's easily the most ravishing event I'll see this year.
If you are not familiar with Proust's seven volume set of novels, entitled In Search of Lost Time, don't hesitate, let the evening's beauty enthrall you; you won't be disappointed. That some of the work is in French is to be expected when at the Alliance Française; however, there's plenty of Proust's gorgeous text spoken in English by characters enacted from the novels, so that the beauty and simplicity of the story can be enjoyed.
Sarah Rothenberg is a first rate artist and impresario, and A Proust Sonata is a well-honed evening of consummate performances, visually stunning, with images and text projected during the musical fare. Rothenberg has curated the evening's piano selections which allude in part to Proust's fictional Vinteuil Sonata. The selections are all either mentioned directly by Proust, or perhaps serve as inspiration for the aforementioned sonata and include Fauré and Chopin, among others. Rothernberg's playing is divine; she is a lovely performer who provides an elegant presentation for the evening.
Henry Stram is our Marcel Proust and he's brilliant in every way a performer can be brilliant. I confess I am a long standing fan of Stram's, from his early career in Broadway's Titanic, further thrilled by his Obie win and now, this mesmerizing performance as Proust, himself. His acting work, imbued with an interesting physical tension, allowed those in attendance (the house was packed) to enter the Proustian subconscious willingly. Each of Proust's phrases blossomed with his oration and we reveled in a complete immersion into the world of Marcel Proust's seven novel journey.
Nancy Hume plays Proust's housekeeper Céleste and with selections translated by Rothenberg, her whimsical and intimate relationship to Proust is revealed with dignity and grace. Rounding out the evening's performances were songs sung by the renowned American tenor Nicholas Phan. Phan sang the role of Proust's lover Reynaldo Hahn, who was also a composer. It was thrilling to hear Hahn's work, Phan is a gifted chanteur with a pianissimo to die for; it was truly gorgeous singing. Of special note for the evening was violinist Boson Mo. His duet with Rothenberg stunned us all with a virtuosic intensity that was simply breathtaking. The Daedalus String Quartet performed brilliantly as well, with Min-Young Kim (violin), Emilie-Anne Glendon (violin), Jessica Thompson (viola), and Thomas Kraines (cello). At the end of the quartet's performance you could have heard a pin drop; we were completely transported.
The physical production for the evening was beautifully curated, and I have to mention Jennifer Tipton's lighting designs and Hannah Wasileski's production designs. It was astounding how they included diverse but crucial pieces of Proust's life and legacy during travels to Combray and Balbec.
So, whether you are In Search of Lost Time, or (in an earlier translation of Proust's title) you are anxious to experience a Remembrance of Things Past, don't let the time get away from you, see A Proust Sonata at Alliance Française's Florence Gould Hall. I can tell you from personal experience, it's a night you'll always remember.