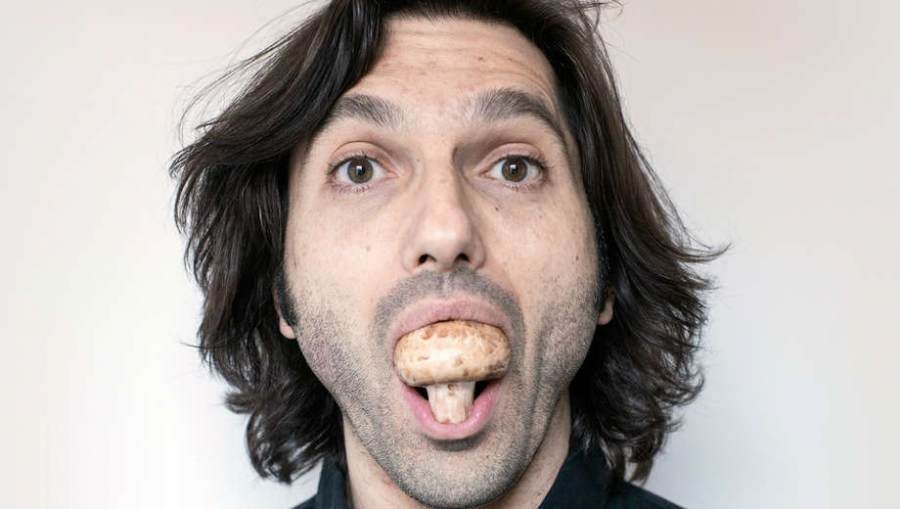 Is self-love a really good trip on psychedelic drugs? A sweet lazy afternoon spooning on the sofa with the perfect mate? A great relationship with a therapist who knows our deepest fears? All these questions and more are deftly suggested by Adam Strauss in his one-man show The Mushroom Cure at Theatre 80 St. Marks Place.
Similar in tone to Chris Gethard in Career Suicide, Strauss makes the standup-monologue-as-one-man-show his own, with a sweetly vulnerable take that has quite a few belly laughs. His delivery is a spoon full of sugar and it really helps the medicine go down (in this case it's synthetic mushrooms and other odd concoctions).
Make your way down to Strauss's impressive new work and you'll feel that you've entered into the labyrinth of the creative mind -- not just because the creaky old space is hung with 8 x 10's of famous movie folks from years gone by, not just because you enter the theatre space through a dimly lit, charmingly grungy old bar, but also because the very idea of doing your one-man show about your messed up attempts at life and love and therapy is so very connected to the reason we all came here in the first place. Strauss's play is a lovely remembrance of things past.
The entire evening Strauss regales us with layers of stories on top of stories, which reveal Strauss's Obsessive-Compulsive Disorder through the eyes of his closest confidantes. The confidantes in question are his therapist, who never seems to have an appropriate place for a session, and the love of his life, whose kindness and willingness to keep Strauss's equilibrium in the darkest of times is almost heroic. Almost. This is a tale of boy-meets-girl underneath all of the remarkably intricate talk of drug dealers named Slo' and 12-step programs that don't quite seem to be effective enough. But through it all, Strauss has woven a narrative that revolves around his attempts to escape his sense of isolation at the hands of his OCD. I am not certain if there's a cure for this thing we call life, but Strauss has definitely found a cure for our country's current existential crisis. It's called The Mushroom Cure, and it works.
Right now, the world is telling us that to be of any importance at all we must consume or win. And we know that it's wrong, but what to do? Go see Adam Strauss's play. Because that other stuff doesn't matter. What matters? Love, life and what we took to ease the pain. Strauss admits in the play that he called 9-1-1 not to get help, but "because no one else was picking up the phone." We laugh because we have all probably asked for some kind of comfort, some kind of help. Maybe divulging our deepest secrets together in a theatre is the cure. Maybe not being afraid to reveal our deepest fears about ourselves to one another is the only cure. "Am I lovable?" is the central theme of Strauss' play, and the answer is startling: Maybe not. But Strauss doesn't leave us hanging; I won't divulge the answer here, but it isn't nihilism, and his response to his own question is remarkable in its universality.
With very simple staging and direction by Jonathan Libman that uses Theatre 80 wisely, this show is a real treat. One caveat, I'd limit the amount of times the lights go out. Strauss is an endearing figure. A trifle awkward and vulnerable, he's effective and affective at the same time. We want to see every nuance playing over his features, so leave the lights on folks, we want to see his pathos, his heart on his sleeve. He's the whole reason we are there.