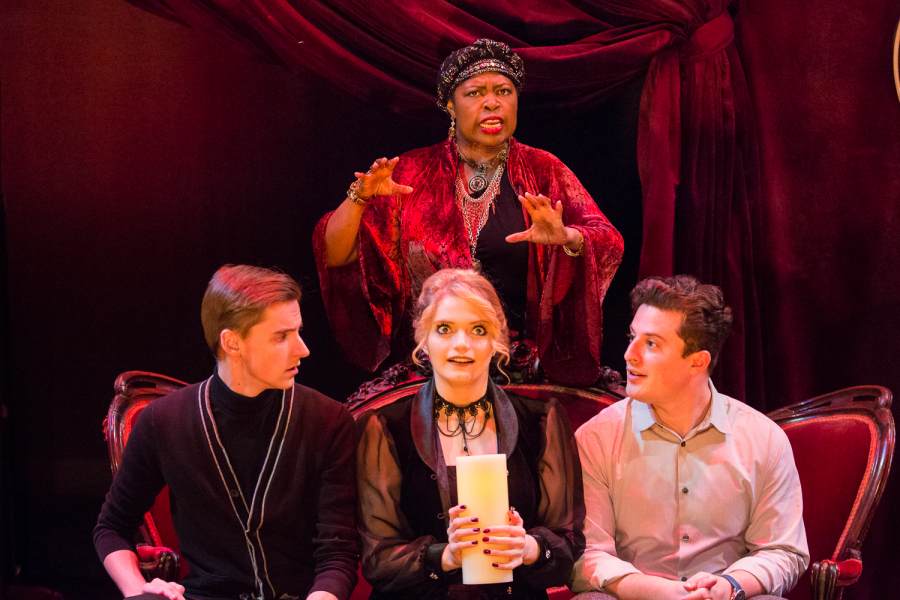 The House on Poe Street, playing now at the 14th Street Y, strives to create humor out of pathos. It's a tricky piece of work, living somewhere between black and romantic comedy. The challenge is intriguing, attempting to bring humor to a dark subject. The strength of the play lies in the biological science (somewhere between eugenics and transgender hormone therapy) that it begins to examine and to argue.
At the play's opening we find the handsome, wealthy Mendel Steingold (played with charm by Gregory Jensen) speaking to us as if we are part of his firm. He's a real estate lawyer with two clients, who we learn are twins. The twins, Argonne and Fluorine Seaborg (played with aplomb by Olivia Nice and Eliza Shea) have inherited the Edgar Allan Poe house from their mother and they wish to turn it into a museum. Their mother (who we come to learn is haunting Poe House) has changed their gender at birth from boys to girls to begin experimenting with hormones to make the world a safer place. The ghost-mother's ultimate goal? To create a drink that might be used against extremely macho world leaders, creating compassion in them, instead of evil.
Mendel has a girlfriend, Samaria Silverman, played by Tamara Geisler who was a standout, with a vulnerable and warm performance throughout the evening. Samaria and Mendel seem to have an off-again on-again romance, with a happy ending, but there's a catch.  A séance is held to get to the bottom of things, and by the end of the play, Mendel and Sam are married, have inherited the house from the sisters and settle in to a new life together. However, Sam mysteriously develops the ability to play the harp as the lights dim. There's a plot twist here that I won't give away, it's fun and spooky stuff for this season.
The core ideas in Poe House are fantastical and wonderfully idealistic. The playwright, Fengar Gael, has a wonderful facility with Poe's work. Poe is quoted often and sung throughout the evening to great effect. However, the play struggles to find its voice in the twin's attempts to create compassion and empathy in a world gone mad with war and corruption. Mendel's comment that if the twins' mother had been compassionate, she would not have changed the gender of her children without their consent, is right on point. He's absolutely correct. The twins' conspiratorial and deceitful behavior is often not fully balanced by the comedy they convey. I enjoyed the play, but was uncertain of its intention at times. We learn the twins have been experimenting with their suitors' hormones, Gadi Rubin and Daniel Light (played winningly by Lawrence Silverman and Astin Rutherford) who then enter as flaming homosexuals. Having the twin's love interests played as nice men who then become silly fops might make us laugh, but it also might make us feel unwelcome. This work has merit, but perhaps in another incarnation the playwright might strive to create more compassion for the characters presented to us here. Smooth direction by Katie McHugh and excellent set design by Pei-Wen Huang-Shea helped us digest the evening's more sombre overtones with relish and delight.