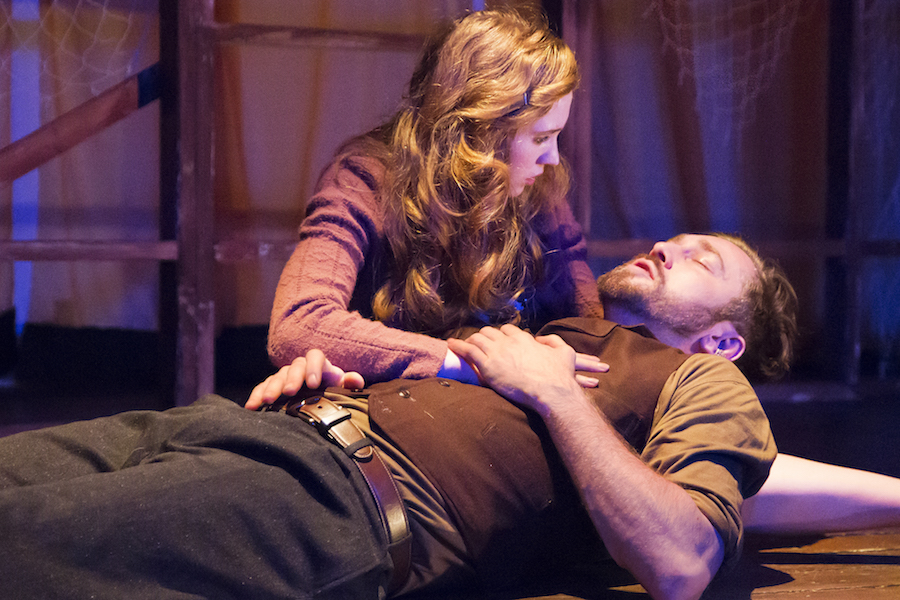 In Jericho, Michael Weller has created a provocative and disquieting expressionist narrative based on the beloved play Liliom, by Hungarian playwright Ferenc Molnar. Similar in tone to Eugene O'Neill's The Hairy Ape, the lurid allegory, best known to theatregoers in the U.S. as the story that inspired Carousel by Rodgers and Hammerstein, is a darkly woven tale of love gone wrong.
Beguiling sets and costumes by Julia Noulin-Mérat and Bevin McNally lead us in a completely different direction than the text, described by the author as "a dark fairy tale for adults." Weller's version of the story is set in during the Great Depression in Coney Island, Brooklyn, and the enchanting physical production soars. Above our heads, tiny carnival lights gently sway, offset by the sound of waves crashing ashore. It's a bewitching misdirection.
The story is "boy meets girl" with a metaphysical twist. The boy in the story is Jericho (played handsomely by Vasile Flutur) a carousel barker who is very popular with the local girls who work in a boarding house. Two of the girls meet up with Jericho, after he's given them a ride on his carousel, late one afternoon. Mary (played with a broadly comic turn by Ginna M. Doyle) is a naïve young woman with dreams of marriage. Julie (played with winsome grace by Hannah Sloat) is an intelligent and headstrong young woman who has flirted with Jericho and upset Mrs. Mosca, Jericho's employer. Mrs. Mosca is played by the divine Stephanie Pope, who has presence, strength and vulnerability in her work; her performance is a standout. Julie stays out past her own employer's deadline and loses her job for the sake of spending time with Jericho. This independence is attractive to Jericho and they eventually live together with relatives who own a photo shop. Fritz (played sweetly by Jamal James) is a friend of the family who works in the photo shop and pines for Julie.
The unconventional and hostile Jericho has a difficult time with family life. After Julie confesses that she is pregnant with Jericho's child, he concocts a dangerous plan to steal money with his friend in crime, Tynk. (Tynk is played with aggressive bravado by Jack Sochet.) The dastardly deed the two men attempt goes very badly and Jericho decides to kill himself rather than face the wrath of the local police.
Upon Jericho's death, he is brought to purgatory by the metaphysical figure of Dr. Ruhl (played with aplomb by Jerzy Gwiazdowski). Here, Jericho learns he is allowed a brief and final visit back to earth to right any wrongs he may have committed. The fervid Judge in purgatory (winningly played by the fiery Erinn Holmes) provides us with much needed comic relief, demanding that Jericho wait 16 years before returning to earth to see Julie and his daughter. Finally returning, Jericho pretends to be a local vagrant, accepting food from his daughter Lisa (played with an understated, lovely presence by Noelle Franco). As a guise to question her about her memories of her father, Jericho attempts to give Lisa a star from the heavens, but she becomes frightened and pulls away from him. At this moment, Jericho slaps her hand and Julie steps in and sends Lisa away. In the final moments of the play, Julie tells the vagrant that she understands what Jericho felt when he left the carousel, that the world judged him harshly for being unable to let go of his past, as they judge Julie for still loving Jericho.
It's a beautiful story, smoothly directed by Laura Braza, but it's also highly problematic. Ultimately, now matter how you present this cautionary tale, we are asked to examine a man who hits women, and their love for him. Weller negotiates this rather well, but the images it conjures gave me pause. There's a thoughtful epilogue wherein Weller suggests that although we've grown smarter about issues like domestic abuse, in general, folks are still putting their trust in those who don't treat them well. It's an uncomfortable moment, which is as it should be. Weller's dark fairy tale for adults is prophetic, as our current national debate about sexual harassment and our current political climate emphatically suggests.