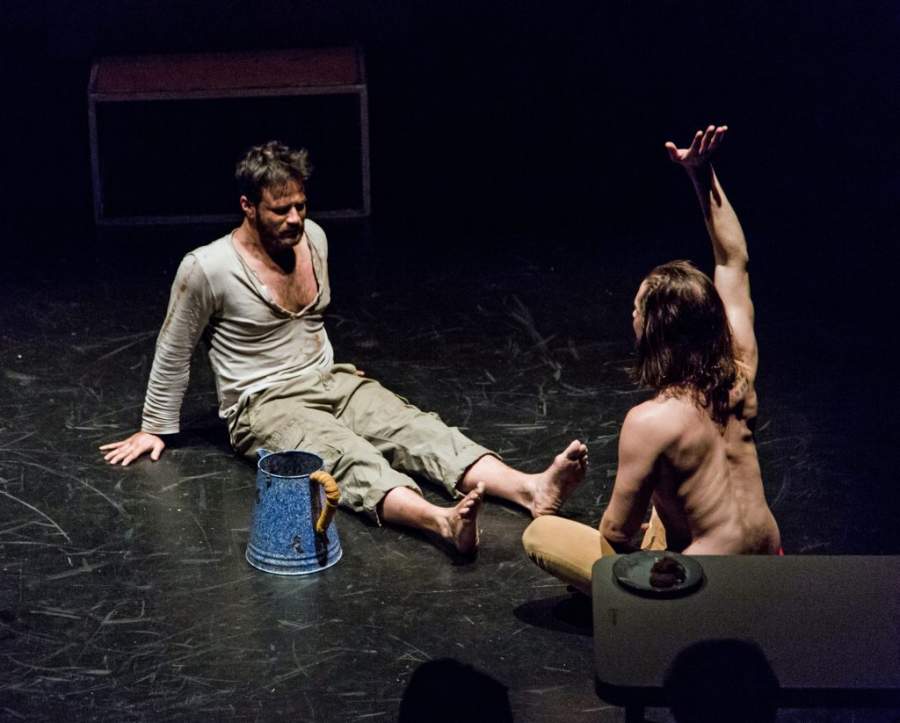 Judas Iscariot is one of history's greatest ciphers: no one seems to know what to make of him, and the Biblical portrait of the infamous traitor leaves many questions unanswered. In The Last Days of Judas Iscariot, playwright Stephen Adly Guirgis prods us to begin answering those questions. The scene is Purgatory. The event is the trial of the ages: Judas Iscariot v. God.
Directed by Public Theater veteran Estelle Parsons, The Last Days of Judas Iscariot celebrates La MaMa's 55th anniversary, and Actors Studio's 70th. With a fantastic cast filling roles as diverse as they are spirited, Guirgis' tragi-comedy about man's relationship to God finds a fitting home at La MaMa's Ellen Stewart Theatre.
As Judas Iscariot, Gabriel Furman gives a devastating performance. From comatose, to insanely drunk, to desperately remorseful, Furman's Judas runs the full gamut of human emotions.
Suzanne Di Donna and Daniel Grimaldi are well-matched as opposing attorneys in the case. Grimaldi brings humor and spirit to the part of Judas' prosecutor, and Di Donna is by equal turns aggressive and empathetic as his defense. Meanwhile, in the role of Satan, Javier Molina is at once terrifying, suave, and immensely complex.
But the best actors in the cast aren't limited to these roles. The wide range of spirited characters in Judas is the play's most endearing feature. Not one of Guirgis' characters falls flat, and each cast-member performs his or her part with wonderful bravado. The action is so immersive that, in the capable hands of Parsons and her cast, Judas feels more like an actual court case, with the audience serving as spectators or even jury-members, than it does a piece of theater.
In the final scene, Judas is finally given the chance to speak for himself, and his exchange with Jesus – played by Michael Billingsley – hits home like a thunder strike after the play's series of cross-examinations, questionings, and avoidances. The final moment of Judas belongs to actor Stephen Dexter, who delivers the show's closing monologue with perfect flow and extreme pathos.
Somewhere along the way, the audience grasps that this isn't just the trial of Judas Iscariot; it's the trial of humanity. In probing Judas' case, we suddenly find ourselves occupying the hot seat, and our pardon or condemnation of Judas Iscariot ultimately falls back on us.
A good playwright never gives his audience all the answers, and Guirgis is a heck of a good playwright. He doesn't answer with finality any of our questions about Judas Iscariot, but he makes us ask them: ask them both of the traitor of Christ, and of ourselves.
Judas is replete with profanity, in the mouths of both sinners and saints, so if that's an issue for you, consider skipping this one. On the other hand, if profanity doesn't faze you, consider taking the trip to La MaMa. Complete with comedy, tragedy, and a great cast, The Last Days of Judas Iscariot is a wild ride, full of constant surprises that you won't want to miss.