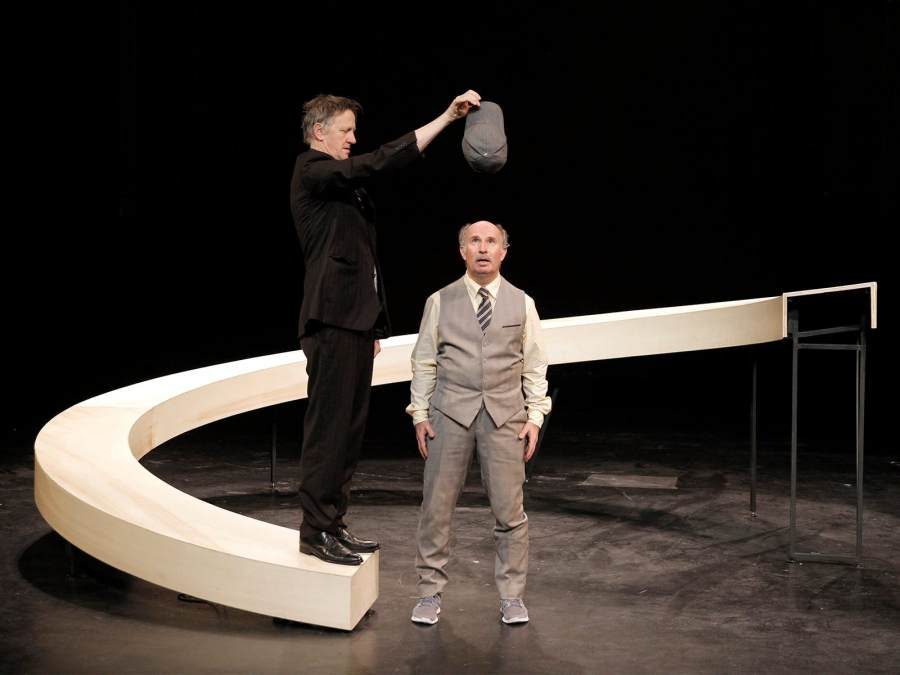 Normally, if someone tries to explain a joke, it's not as funny. But the dissection of a pratfall happens to be even funnier than the actual act in the hands of Jos Houben who, along with fellow physical theatre artist, Marcello Magni, present a pair of one-act plays, Marcel and The Art of Laughter, at Theatre for a New Audience at the Polonsky Shakespeare Center. The two are quite charming and playful, not quite buffoonish nor straight performers. They exist somewhere in between; something like a professor crossed with a clown.
In Marcel, a hapless Magni meets a demanding Houben, who orders a series of ridiculous "warm-ups," which he jots down on a clipboard. What follows is Magni performing a variety of exercises involving a particularly Escheresque set piece (scenic design by Oria Puppo). It's pretty silly and slapstick, particularly with a joke involving a bottle of water, but becomes rather poignant when Magni slips from English into an animated Italian (his mother tongue) to talk about his boyhood. A moon drops down from the rafters and "Clair de Lune" plays. A delighted Magni reaches out to grasp it, then he plays with it, pretending it's a boat or a hat. It's a moving tribute to youthful dreaming and tapping into your inner child.
If Marcel demonstrates the pair's predilection for pratfalls, The Art of Laughter deconstructs them. A "master class" in how to elicit laughter, Houben (with some wonderful participation from a game audience member) goes step by step through the various ways the body can be used to make an audience laugh. The humor that exists in the body or with just a subtle look is astounding, especially when looking back at Marcel and its simplicity. In this way, the sequence of the two plays is brilliant.
Marcel and The Art of Laughter are masterful creations of physical performance from two seasoned artists. The hilarious antics of Houben and Magni are a joy to watch. Just be careful if you're in the first few rows: You might get wet!