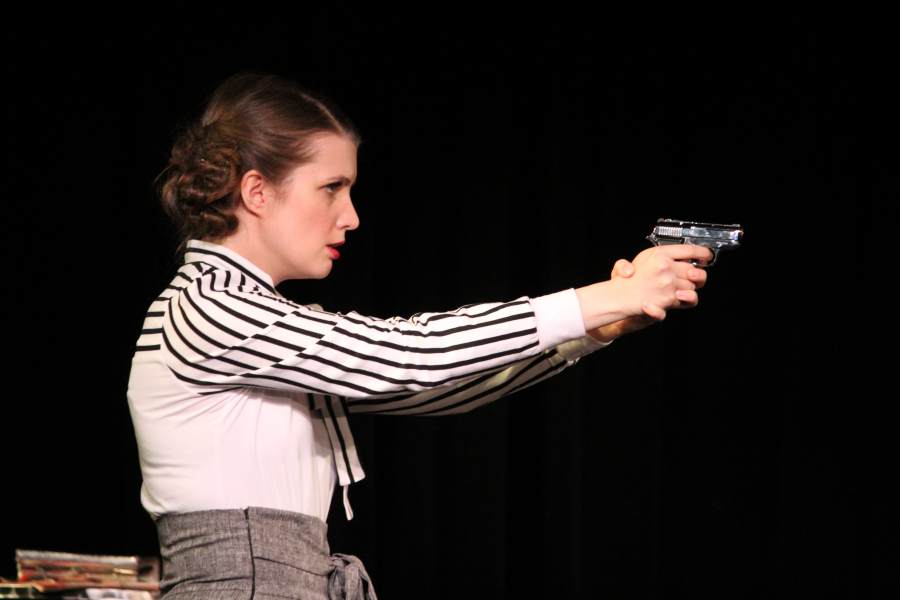 I had to think about it for a moment, had I ever seen this play before? It's Agatha Christie, I must have - no? And it turns out, I haven't. But the name on the writers credit says it all – You know what to expect: A boardroom drama with various troubled and eccentric characters suddenly trying to solve a murder. This time it takes place on a pleasure boat heading up the Nile river.
The play is mostly fun and jaunty, due to the direction of Mikaela Kafka, who is back directing at the Player Theaters' 'Murder on McDougal Series", with actors coming out into the audience and selling beads and other wares in the aisles as the boat 'passengers' enter the play. This helps greatly the dated material that, to tell the truth (dare I say it) could use a bit of editing down for a 2019 audience.
The list of characters include actors Mason James Mickley and Emily Brady, who both give lively performances as the young couple who just got married, the launching off point of this drama. Laurel Anderson plays a terrific scorned lover, creating the three-way controversy of the love-plot. The cast fills out with wonderful characters played by Brenda Bell, in a charming and whimsical performance as "Christina Grant". Ms. Bell really shines on-stage, as does Sue-Ellen Mandell as the wealthy and demanding "Miss Ffoliot-Ffoulks" (Gotta love that name). I also enjoyed Lara SchrÖer as the French Maid, playing it all so droll. Rounding out the cast are fun performances by Islam Balbaa, Dustin Schlairet, Carla Constabile, Eric Fletcher as a wild and eccentric version of "Dr. Bessner" that is quite fun.
But by far, my favorite performance was by Joe Raik, as "Cannon Ambrose Pennefather". He is constantly a solid and comforting presence on the stage, and brings the whole production to a higher level. His command of the stage, even at his quietest moments, makes us want to lean in and hear what he has to say.
Overall, "Murder on the Nile" is a pleasant romp and throwback to an earlier style of playmaking. Like putting on a good old 1930's black and white B-film. You know it's not going to be great, but you do know it's going to be fun. And isn't that what entertainment is really all about?