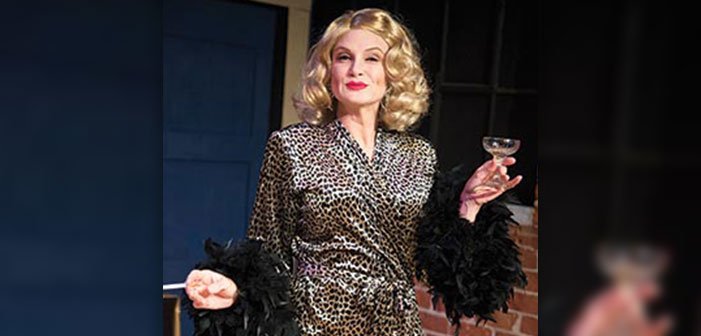 Nearly 30 years ago, Marlene Dietrich -- a German actress who rose to stardom via the 1930 film Blue Angel -- left Berlin for Hollywood. There, and later in Paris, she spent years charming moviegoers, making free love, and being an international icon. During WWII, she entertained American soldiers at the front -- a move that branded her as a traitor in the eyes of many Germans. Now, in May 1960, she's returned to Berlin to give a concert performance at the Tatiana Palast Theater. And she's a little on edge.
Of course, WWII is over, but Nazis remain in Germany. While waiting in her dressing room before the concert, Marlene is threatened by them twice: once on the phone and once in person (good thing she has a gun and an imposing personality to match). As she speaks with an American reporter and relives her bold, colorful past, Marlene Dietrich reevaluates her decision to return. 15 years after the end of WWII, is it still, perhaps, a bit too early?
Written by Willard Manus and directed by Judith Rose, Dietrich recently played the Triad Theatre for one night, during which Cindy Marinangel gave a dazzling solo performance as the iconic Marlene Dietrich. Apparently, Marinangel has long dreamed of playing Dietrich, and her intense interest in and passion for the role shows. It's a seamless blend of character and performer, making it all but impossible to tell where Dietrich ends and Marinangel begins. Elegant, assured, and bursting with passion, she's not just a diva -- she's a heroine.
This solo show flows smoothly from start to finish, guided, of course, by Dietrich's innate elegance. Even facing death threats, she remains poised and self-assured (at least outwardly, though her words hint at an inner struggle we're not fully privy to). There are occasional voice-overs in which we hear the voices of some of Dietrich's family members and past lovers. Incidentally, these were the only moments I found somewhat jarring. I felt Dietrich could have conveyed the same information just fine herself for a stronger, more cohesive narrative. After all, there seems to be very little she can't do: singer, actress, lover, bohemian, and even (honorary) military captain.
Discerning audiences may catch some eerie parallels between Dietrich's description of the Nazi takeover and the current state of America. They're definitely there, but the issue isn't pushed -- and that's as it should be. Though set in post-Nazi Germany, Dietrich isn't focused on WWII or 20th-century politics. Instead, it seems to be about homecoming, healing, and rejoining. Of course, more than anything else, it's about Marlene Dietrich: the woman who lived fearlessly, loved freely, and never surrendered her bold, uninhibited spirit.