French playwright David Lescot's 'Dough' is a hilarious, piercing probe of life in a capitalist world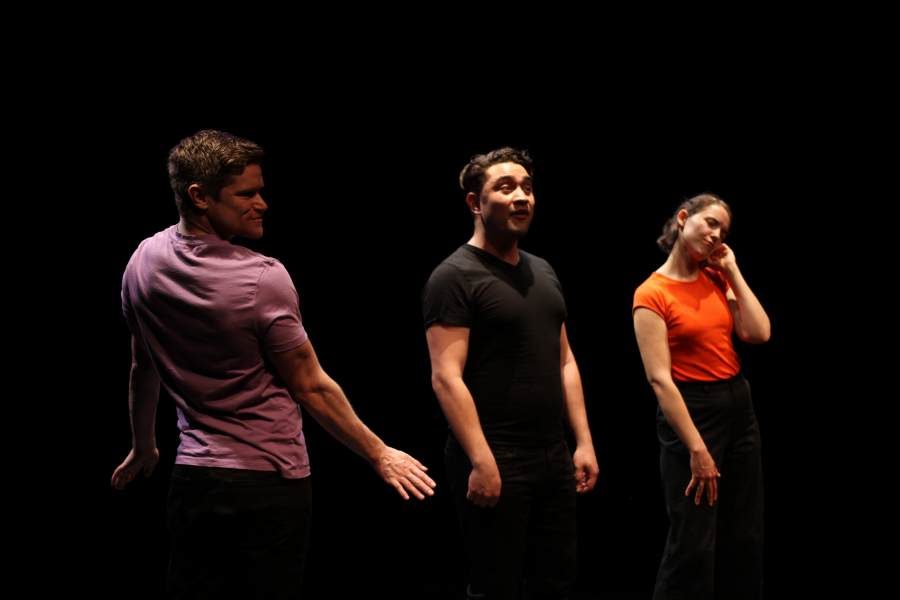 I've seen some weird stuff lately, but I'm very glad I took a chance on French playwright/director David Lescot's Dough. A Compagnie du Kairos production presented by Villa Albertine and the New Ohio Theatre (which is where it's staged), it's a smart, mesmerizing, nearly perfect production that reminded me why I love theatre.
In Dough, Lescot shares his life story focused through a very specific lens: money. Starting with the savings account his grandmother gave him as a child, he chronicles each monetary transaction that significantly affected his life. We hear about his tooth fairy money, his first job salary, his father's child support, the time he was scammed, and the money he lost to a failed investment. We also see things like his struggle to provide as a young father, his attempt to haggle over a vacuum, and a manipulative relationship that strapped him for cash. While Zach Lusk plays Me (Lescot's stand-in), Matthew Brown and Hannah Mitchell play a cast of 40+ characters that includes everyone from parents and lovers to salesmen and scammers.
At first glance, the premise of Dough may not seem like ideal material for a thrilling night of theatre: most arts lovers aren't too passionate about economics, and we come to the theatre to forget, not be reminded of our money troubles. But thanks to consummate acting and a script so polished it could hold up under fire, Dough is riveting. (I was prepared to take notes but couldn't look away; the notepad sat untouched in my lap until the end.)
Not only is it sharp and searching, it's one of the most truly hilarious shows I've seen in a long time. It's not just trying to be funny--it is funny. And it's piercingly, classically funny, not crude or farcical. Much of this can be attributed to Lescot's narrative warmth and wit (and all credit to Chris Campbell for translating the play into English from Lescot's original French). But credit also belongs to the actors, in particular Matthew Brown: absolutely side-splitting as eccentric characters like a decrepit funeral home director and a helpless tutoring student.
But it's not all laughs. In fact, it's this play's disconcerting marriage of playful comedy and bleak reality that makes it so effective. Although it's not a down-and-out tragedy, it has definite existential leanings. Our narrator is plagued by money troubles all his life, and retires on a mere pittance. Although he hasn't led a bad life, he's poor and alone by the time his internal clock starts winding up. He can't afford a wedding present for his daughter and can't get hold of his last girlfriend. As he sits down cross-legged on the ground, replaying his money-related memories in a slow theatrical fadeout, it feels like a moment for reflection. Having witnessed an entire life filtered monetarily, we're left to wonder to what extent capitalism defines our own experiences, and if there's any way at all to break free from the worrying cycle of getting and spending.