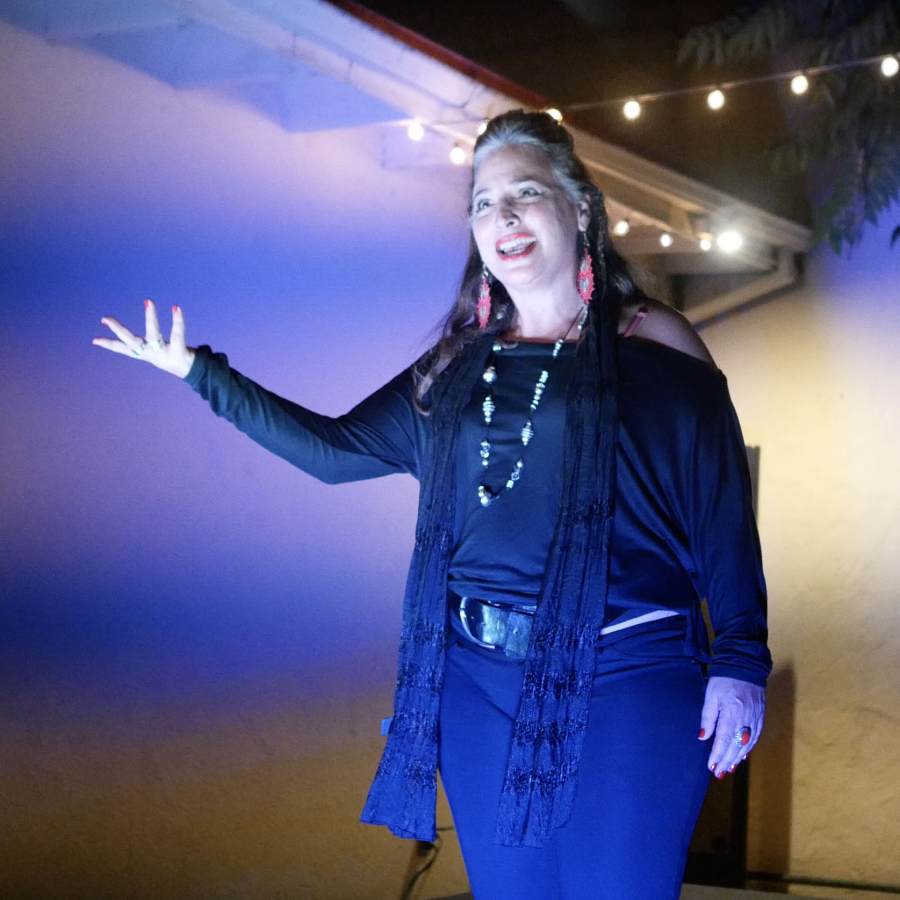 In a convertible car, speakers blaring, a woman is breastfeeding her baby when she hears someone make a derogatory comment. Enraged, she gets up and launches into an impassioned speech about the right of women to breastfeed in public. She's furious that someone has tried to turn the sacred mother-baby bond into something sick and offensive. She makes a good point.
So opens Matriarch: a partnership between The Roots and Wings Project and Houston Coalition Against Hate (HCAH) to present six monologues (and one song) themed around the roles of women in a patriarchal society. Some are more explicitly concerned with this theme then others, but all are at least tangentially related to motherhood. Originally performed live in LA, Matriarch has been filmed and will be available for streaming from October 8th. An October 8th livestream will also feature a live panel discussion with HCAH advocates.
Truth be told, while there's much to admire here in general, I found myself a little fatigued with Matriarch. It makes good points, such as that foster care abuse needs to be better addressed and that some women are happier not having children. But the militancy with which these claims were made grated me, especially when I didn't see how they related to the overall theme. Of course, I appreciate the need for change-making theatre and differing perspectives, and I don't want to shy away from accountability and truth telling. But I found myself wondering at times if Matriarch was intended to promote or demote women. Maybe demote is too strong a word, but for a show called Matriarch, it certainly seems to take a hard view of traditional motherhood. When the aging mother in Sigrid Gilmer's Remember This tells her daughter blankly that she wishes she'd never been born, the audience laughs uneasily. Like them, I wasn't sure if the playwright was aiming for comedy or tragedy. And I'm still uncertain as to how this show was intended to land.
There's one piece that stands out, however. In Gabriel's Monologue, written by Tamar Halpern, a young man pays tribute to his late mother. This piece was by far my favorite of the night. Performed with understated power by Gabriel Diamond, it's a movingly beautiful, heartbreaking tribute to not just Gabriel's mother, but all mothers who raise children with courage, love, humor, and self-sacrifice. Throughout the piece, Diamond moves from awkward son to powerful mourner. His grief chokes him at times; his performance is infinitely poetic. Maybe I simply liked it because it was the angle I related to most, but I felt Diamond's earnest, graceful performance was a welcome break from the other characters' loud tirades.
Elsewhere, while the pieces didn't quite speak to me, I'm sure they'll speak to others whose perspectives differ from mine. A range of topics are addressed, from the failure of foster care to society's unfair treatment of gay men, and with provocative writing and fiery acting, Matriarch is certain to cause a stir wherever it's seen.