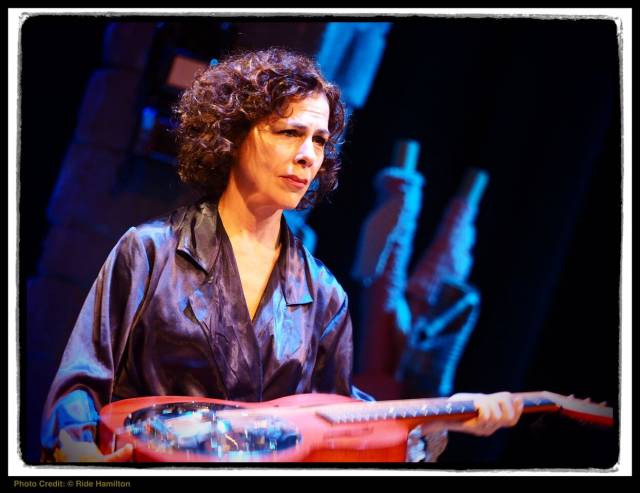 Among the more enjoyable productions I've seen in New York in recent years have been stripped-down versions of classic and new works directed by Austin Pendleton. Among them was a highly satisfying 2013 take on Tennessee Williams' Vieux Carré (for the Mississippi Mud company) in which Pendleton also acted. Now he has helmed a rare New York staging of Williams' 1957 drama Orpheus Descending. (Related productions of the play—not directed by Pendleton, but featuring some of the actors seen here—have been staged previously in Provincetown and New Orleans.)
This Orpheus—played without intermission by sixteen actors in the sanctuary of St. John's Lutheran Church on Christopher Street—is nothing short of thrilling. Audiences should not expect spectacular sets, costuming, and lighting here. What they can depend on are viscerally felt, beautifully calibrated performances, especially from the actors in the two leading roles: Irene Glezos and Todd d'Amour.
The play is set in a Mississippi town riddled with small-mindedness and racism. Glezos portrays Lady Torrance, the daughter of an Italian bootlegger burned to death by a bigoted mob years earlier. Lady is now married to Jake Torrance (Keir Dullea), the dying owner of a local dry goods store. An odd but charismatic drifter/musician named Valentine "Val" Xavier (d'Amour), shows up, and he and Lady embark on a relationship that promises to free them from lives of waste and corruption even as it threatens to physically destroy them both. Williams drew on ancient Greek and Christian mythology for this deeply poetic work (adapted from an earlier play of his, Battle of Angels).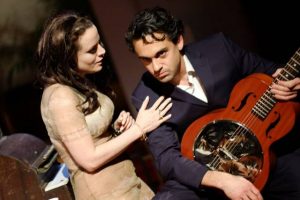 As the daughter of an Italian immigrant, Lady is an outsider to Williams' familiar Southern landscape. Glezos plays the role with stunning clarity and control, as though she were a stoic, long-suffering figure from a Greek tragedy. She allows Lady's simmering resentment to boil over with scorching power as the truth about Jake's participation in her father's murder is revealed. But Glezos also highlights her character's inquisitive and playful side, in scenes in which Lady and Val come to realize, after some initial puzzlement and tentativeness, that they are mystically drawn to each other.
d'Amour stresses Val's nervous, standoffish, and troubled aspects. When he speaks, he'll sometimes gasp for air mid-sentence, as though fending off a panic attack. What's striking about the scenes that he and Glezos share is that their characters' passion comes off not solely (nor even primarily) as sexual, but rather as something touching the spiritual. Both Lady and Val avoid the word "love," but what they find together seems to approximate it—perhaps to surpass it. I can't emphasize enough the emotional urgency that burns in these sequences. (To top things off, d'Amour sings and plays guitar soulfully, making him a credible Orpheus figure.)
Not all the actors rise quite to the level of the two leads, but several give impressive turns. Beth Bartley (who, along with Glezos, is a co-producer for the production) is excellent as the peripatetic, proudly exhibitionistic Carol Cutrere, As Carol's brother David, who was once Lady's lover, Lou Liberatore has a single scene, and it's a powerful one. Mia Dillon is highly watchable as unlikely Christian visionary Vee Talbott. And, in an outstanding performance in a minor role, Michele Tauber portrays tough Nurse Potter, who cannot mask her utter contempt for Lady's unconventional brand of morality.