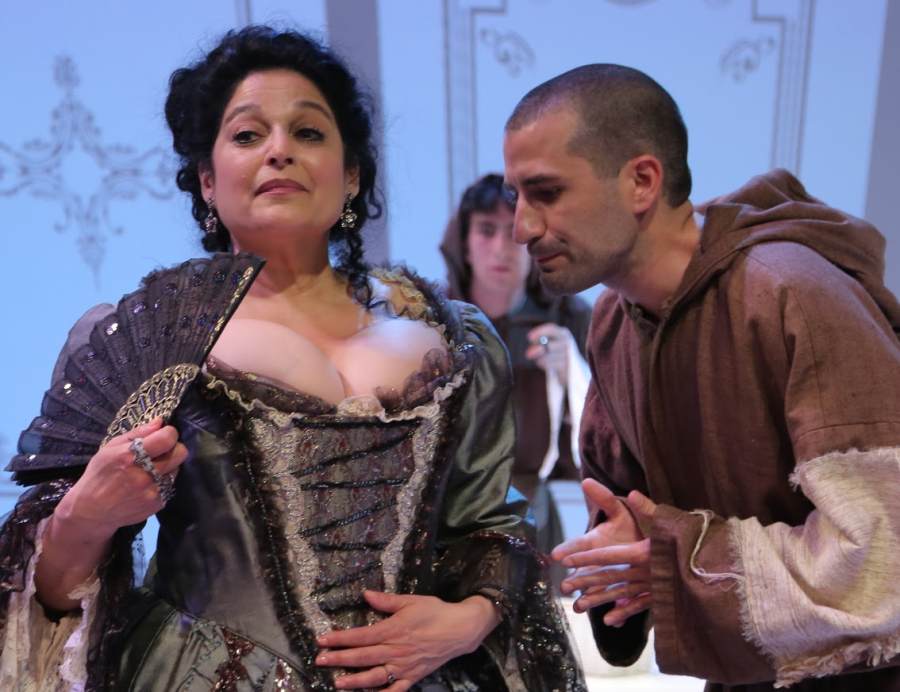 Molière's Tartuffe is a hilarious play, and sometimes it's best to just let a comedy play without trying to project other things onto it. In my opinion, Phoenix Theatre Ensemble's production of this 17th-century classic might have been a more complete success if they'd just let Molière's comedy do its thing. As it is, the production seems a little too divided between lighthearted humor and some undercurrent of...something. (Judging from the comments I heard at intermission, I wasn't the only one confused by the ending of the first half.)
At the same time, however, United Stages has done some wonderful things with Molière's script; and in spite of its flaws, their Tartuffe (directed by Craig Smith at The Wild Project) is certainly worth seeing.
One such thing is Debbi Hobson's spot-on costuming. In the first act, most of the characters wear sumptuous 17th-century clothing in the French aristocratic style. Bright and elaborate, it's like eye candy for costume enthusiasts. However, in an insightful move, these bright costumes clash with Orgon's black, Puritan-like attire, and even more so with Tartuffe's brown priestly robes.
But Hobson is just getting started: in the second act, the whole cast (apart from Tartuffe and his servant Laurant, still in their religious robes) appears in white, stripped down costuming - a visible manifestation of how Tartuffe has disrupted their world. Even in their comparative simplicity, though, Hobson's second act costumes are still a feast for the eyes.
More highlights are the strong performances by John Lenartz as Orgon, the sensible man Tartuffe has blinded with his supposed religious fervor, and Josh Tyson as Tartuffe, the apparent holy man who is really a freeloader making eyes at Orgon's voluptuous wife. As the character who undergoes the most dramatic transformation from the first half of the play to the second, Orgon's part requires a great amount of emotional depth to come off as believable, and Lenartz slips into the role naturally. He blusters, rages, and bemoans -- but all with sincerity. He's also very funny - especially when spying on his wife and Tartuffe from underneath the table.
As Orgon's wife Elmire, Elise Stone is perfectly poised, pulling off both subtle comedy and direct silliness with equal success. A prime example of the latter occurs when she falls into a coughing attack and bangs on the table to get her husband's attention in the spying scene.
Meanwhile, Josh Tyson's Tartuffe often steals the show (as well he should). A character of such charisma and apparent fervor that we can easily see why he has blinded Orgon to the realities of the situation, Tyson's Tartuffe challenges previous assumptions about the character, and as the viewers, we're invited to sympathize with Orgon's character: less a complete idiot than a man searching desperately for something to believe in. Surely we can forgive him for that. And in a similar way, it may be worth overlooking the quirks in this particular production in view of the piece's artistic daring.