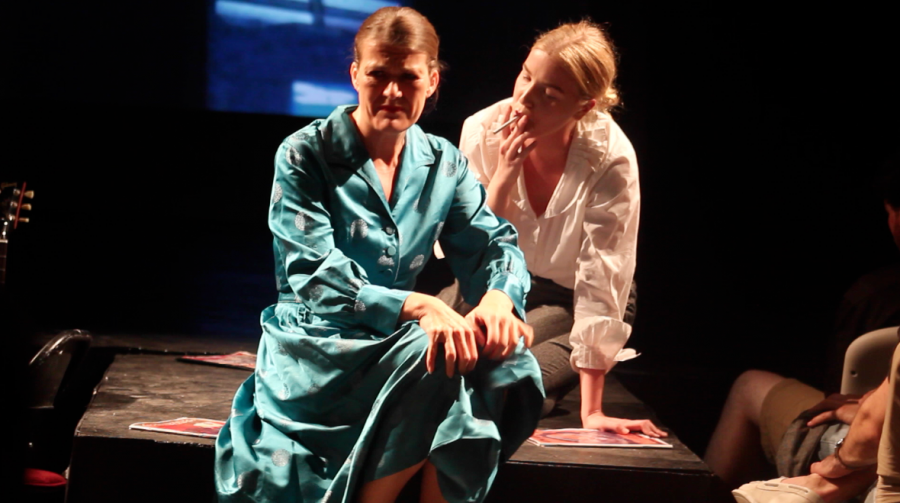 In the Duo Multicultural Arts Center, a beautiful theatre reminiscent of Tennessee Williams' New Orleans, The Playhouse Creatures have mounted their own Tennessee Williams Festival.
Each evening of the three-day festival features A Tennessee Triptych, comprised of one-acts "The Chalky White Substance," directed by Jade Ziane; "Why Do You Smoke So Much, Lily?", directed by Dana Greenfield; and "Ivan's Widow," directed by festival director Scott Davis.
Seeing Williams' lesser-known works is always interesting. On the evening I attended, the triptych was preceded by a fascinating conversation with director Austin Pendleton, and actors Irene Glazos and Joseph W. Rodriguez. Pendleton is directing Glazos and Rodriguez in an upcoming production of Williams' final work, The Two-Character Play.
Pendleton had personally known and worked with Williams prior to his death in 1982, and regaled the audience with stories of how Williams had regarded his own work objectively while still caring about the characters very deeply. He told of a tech rehearsal for A Streetcar Named Desire when Williams burst out laughing and proclaimed, "Blanche is the funniest character I ever wrote!"
Pendleton also told of the story of Williams' sister Rose, who was lobotomized by their strict mother Edwina in 1943 for being hypersexualized and thus institutionalized until she died in 1996. Many of Williams' female characters are based on her. He told a bit of Williams' relationship with his mother afterwards, who did attend his plays, and after the premiere of the largely autobiographical Vieux Carre in 1977, advised her son to find a new profession.
There was an interlude of jazz, performed by Keith Boratko, Taylor Harlow, and Leon Hinata. These talented musicians chose a great selection to set the ambience for all in attendance, giving the theatre the feel of a bygone era. They also played the leitmotifs for the interpretation of Williams' poetry that followed.
"Chalky White Substance," "Why Do You Smoke So Much, Lily?" and "Ivan's Widow" were all cleverly imagined and made great use of multimedia while staying heavily focused on live acting. Ivan's Widow in particular was a great interpretation, set in 1982 with the widow being the bereaved of a same-sex couple.
Due to the humid weather, the air conditioning was on by necessity, and at times many of the actors, particularly in the poetry interpretation, were difficult to hear. It was also distracting that the majority of the readers of the poetry were not off-book, and held a tome with multi-colored post-it notes holding their place.The one young woman who was off-book was able to express herself to the audience clearly and engagingly, with a reading of the poem "Gold Tooth Blues".
Overall, however, this is an enjoyable and educational evening, and any fan of Williams' works should do themselves a favor and attend.