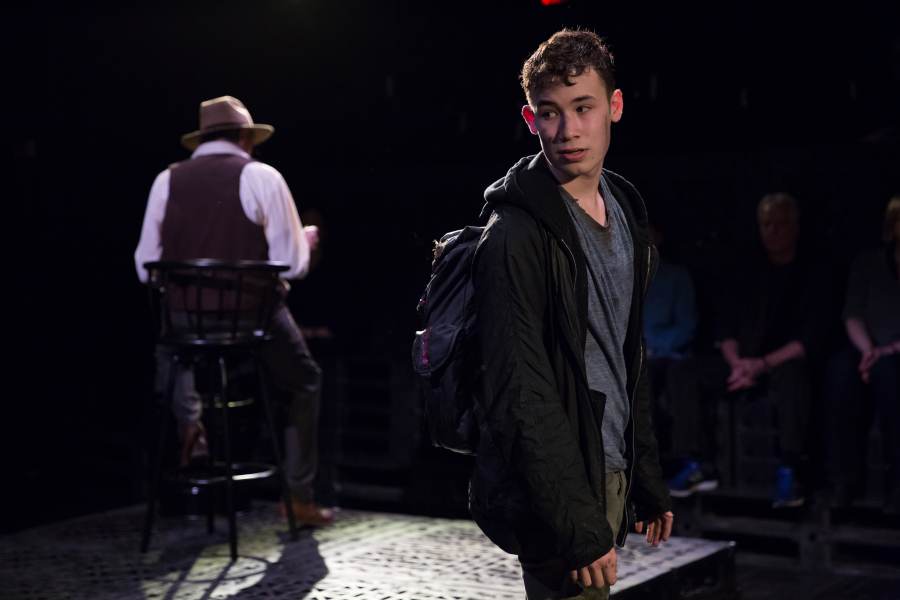 If you go to see the world premiere of Richard Maxwell's Samara by Soho Rep. (in the Mezzanine Theatre at the A.R.T./New York Theatres), you may do a double take when the usher hands you a cushion on your way in. "You'll understand when you get inside," the usher will tell you; and they're right. When you enter the theater you realize that everything -- from the walls and seats to the set itself -- are entirely made up of black plastic milk crates. That's why you're going to want that cushion to sit on.
The experimental nature of the theater space makes it a perfect setting for Maxwell's Samara, a daring piece that both questions and confirms life as we know it. With a diverse and talented group of actors, a score written by folk musician Steve Earle, and a script that's breathtaking in its use of language, there's a lot to love in this production, and certainly a lot to think about.
Directed by Sarah Benson, Samara follows several different characters whose lives become intertwined through a series of choices both deliberate and unintentional. A young messenger travels far to collect a debt, determined not to leave until he gets it. Two friends who have gone "off the map" struggle to put things right and find some meaning in their lives. And a mother and her grown children wander through the night, offering wisdom and hospitality to strangers. Maxwell's diverse characters are fittingly played by a talented cast that spans the full spectrum of age, race, and gender, with Becca Blackwell, Vinie Burrows, Paul Lazar, and Jasper Newell in the leading roles. Roy Faudree, Modesto Flako Jimenez, and Matthew Korahais round out the company.
Meanwhile, Steve Earle's haunting score, played on uilleann pipes and percussion, amplifies the otherworldly quality of Samara, and fits in perfectly with Maxwell's script. Add to all of this Earle reading the stage directions aloud in his smoky, folksy voice, and you've got a show that plays more like an extended poem than a traditional piece of theater. But if Samara is a poem, it's one that uses other mediums than just language. While its language is Samara's most striking feature, the piece also uses music, lighting, sound, fog, and an experimental set and stage directions to complete the effect.
For me, the most moving part of the piece is the end, when the stage goes black and Earle's voice takes over. The dialogue in these last few scenes is so beautiful, and Earle's delivery is spot-on. When the overhead lights come on and the audience hands their cushions back to the usher on the way out, it feels different than it did coming in. While I, for one, know for a fact that I didn't grasp every nuance in the play, I know that I won't easily forget the experience of watching Samara.