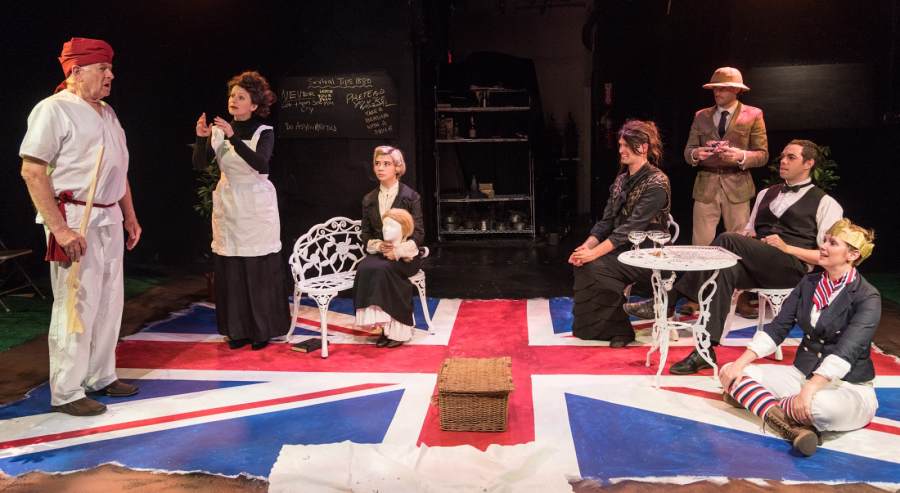 One of the great plays is being produced at the Access Theater: Cloud 9, the first of Caryl Churchill's many magnum opuses. Yes, Caryl Churchill, without question a top ten English language playwright (don't question me I'll fight you), may have many, many greatest of works. And Cloud 9, a play of such density and dynamism, a play of such warmth and bitter intelligence, a play of such sobering and poignant import…well, it's just frankly shocking that it's not done more frequently, like every freaking day.
The Seeing Place Theater ensemble, a company I intend to keep my eye on, does this masterwork more than justice in a very fine production co-directed by Brandon Walker and Erin Cronican. Like a veteran trainer, they take this beast of a play, bursting with energy and opportunity, and produce an intelligible and pointed and very enjoyable production.
To the ensemble's credit, they ask the work to speak for itself, accentuating the theatrical and cultural elements of the play. Cloud 9 interests itself in the transgressions against and the repercussions of the sexual and sociological conditioning of Great Britain. Concerned with a single family in 1880 and then 25 years later, but taking place in 1980, it provides an intimate yet historically contextual sense of these forces on life. To discuss the subjects, Churchill brilliantly, and very purposefully, double-casts the characters, so an actor who in act one plays the patriarch then in act two plays the little girl. It is a notably theatrical strategy, one of the most effective in theater's long history.
To begin this production, a narrator, an invented character who reads Churchill's stage directions, says the work is about overcoming oppression. This plain Brechtian tactic is certainly on point: Churchill is probably the most accomplished Brechtian playwright after the man himself. But in no way, on the page, is Cloud 9 a strict Brechtian play. The Seeing Place Theater chooses to approach it as such, and the emphasis drives home the story, pushes Churchill's voice forward, and characterizes her narrative choices with a smooth and effective hand. It also begets a production totally invested in the characters, the actors' performance of those characters, the relationships between the characters, and the nuances of the double-casting — certainly as Churchill intended. As this is a playwright perhaps more attuned to the conflicts and eccentric details of the human soul than any other, I was certainly all about this.
And to my delight, the cast performed with great aptitude, a sophisticated quasi-Brechtian performance with a hearty dash of admiration for the characters. Act One was particularly Brechtian, certainly appropriate considering the strict cultural rules of the era. Act Two, while far from emotive, was more emotional, as the characters lost themselves in a number of charmingly crafted monologues and swam in their own feelings and emotions -- again, appropriate for the cultural moment. Brandon Walker, as the patriarch Clive and the young daughter Cathy, performed with great energy and aplomb. His work had a commanding presence yet supported the ensemble. Jane Kahler as the queer governess Ellen and the untamed widow Mrs. Saunders in Act One, then as the older Betty, perhaps the most interesting of Churchill's characters, in Act Two, performed each character with unique substance but consistent performer presence. Both Mrs. Saunders and Betty transgress in their cultural moment in unconventional ways — Betty with greater conservatism — but as performed by Ms. Kahler, Betty's transgression took on a great magnitude and honored her daring leap of faith. Every actor in the production performed with professional physicality and energy, and I applaud every one of them.
What is potentially lost with this character focus is the incredibly fascinating and essential aspect of colonialism and war within Cloud 9. The characters are scarred by their colonial history, just as in the United States we are scarred by slavery. But while the great play on our great sin, Sam Shepard's Buried Child, is deliciously and kind of obnoxiously obtuse, Cloud 9 passionately and painfully concerns itself with the details and repercussions of all the war and killing and suffering and colonial rule. I did not feel that in this production, as the ensemble concerned themselves with the sexual and sociological conditioning through the characters. It is a testament to the production that I didn't need it, but noteworthy that I missed it.
So many plays wish they were conceptual essays -- and are so frighteningly boring they may as well be. Cloud 9 can discuss these nuanced and intricate ideas about conditioning and transgression and sex through the theatrical prism, and thus makes detailed and fascinating claims about the subjects within the medium. This is major. And Seeing Place Theater, if you could forgive the metaphor, read that essay absolutely beautifully.
So why isn't this play produced more frequently? Perhaps simple fear. Within our cultural moment, this work may be distinctly appropriate but also a certain firebrand. It takes a veteran's clutch to maneuver through these issues. But that's why we attend the theater, and that's what the great playwrights have always intended. I am so grateful to have seen Cloud 9, one of my favorite of favorite plays, and am so grateful The Seeing Place Theater performed such a strong production.