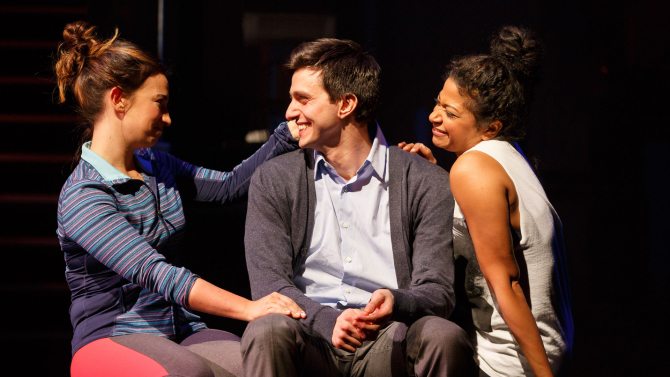 Significant Other might have been the most refreshing show of the Broadway season, if the season was 1989. If it had opened one year after Wendy Wasserstein's The Heidi Chronicles, to which it clearly owes so much, Joshua Harmon's play might have proved revolutionary for revolving around a gay man whose main conflict isn't coming out, but learning how to be single. If the show had opened in 1989, it would have been strange to see how sanitized its version of a single gay man is - AIDS would've undoubtedly been a part of his worries, and he would have been concerned about his friends getting sick and/or dying - but it would've still been commendable for placing a gay man at the center of its escapist universe. But in the year 2017 its escapism isn't admirable, it's downright cowardly.
We are living in an age where the Pride Parade is one of the most vibrant events in the NYC calendar, where hookup apps have become predominant, and where AIDS is no longer a worry if your physician can get you on PrEP. So why is the hero of Harmon's play living in a Doris Day vehicle? Jordan Berman (Gideon Glick) has almost everything a person could dream of, he's in his late 20s and has a successful career, an apartment where he lives alone, and friends who seem devoted to him. But he can't get over the fact that his girlfriends are all finding love, getting married and leaving him behind. Jordan's existence is devoted to the bitterness he holds and an assortment of white people problems that seem extra icky when we take into consideration his friends are basically token multiethnic fag hags, written for the purpose of giving Jordan sidekicks that can propel his egocentric storyline.
And there is nothing wrong with Jordan being a horrible person and friend, in fact it's often a pleasure to see Glick dive deep into his character's ugliest traits. What's more troubling is that he exists within a structure that sells out the idea of the modern gay man, to fit what predominantly straight audiences might find acceptable. Significant Other isn't a play for people like Jordan Berman, but for their parents. Jordan is almost completely chaste, he might be the hero of his story, but in exchange for protagonism he seems to have traded his genitals. We are supposed to believe that a single gay man in the 21st century has chosen to live the life of a romantic comedy heroine, or worst, a fairy tale princess (unsurprisingly Jordan is given a fairy "grandmother" in the shape of the lovely Barbara Barrie who makes Harmon's aphorisms seem wiser than they are) whose asexual existence will be rewarded with everlasting happiness and true love.
What Harmon has done in the play is simply transpose all the traits of a cliché rom-com heroine and given them to a gay man, perpetuating the troublesome idea that gay men and women are interchangeable. It's as if no progress had been made and products like Looking, Weekend and especially Moonlight simply didn't exist. In fact that the latter failed to be produced on any stage, while Significant Other was given two New York productions seems like quite the injustice, but that's another story. Within the limitations of its cliché-ridden structure, the most disturbing element of the play is how it suggests white males are the only kind of people gay men and straight women can desire. In an unfortunate move, hopefully triggered by cost concerns and not completely intentional casting, John Behlmann, plays the love interest for every single person in the play. Nothing against Behlmann, who seamlessly plays a nerd, a jock, and two everymen, but to think that whiteness is universal in 2017 isn't tone deaf as it's a reactionary political statement. Significant Other establishes its moral, racial and ethical priorities, asks that we laugh, or cry, along with them, while pretending it's a show meant for everyone.
It's quite hard to sit through a play that disregards sociopolitical progress to fit its very conservative agenda. If the show was meant to use asexuality as an example of "old fashioned" romance, why then does it recur to slut shaming? If it meant to celebrate gay men in the mainstream, why does it poke fun at the more "femme" gay character to position only "jock gays" as desirable? Perhaps Jordan Berman should have spent more time learning about empathy and trying to become "woke", rather than envying the happiness of those he supposedly loves. Significant Other should serve as cautionary tale not for selfish characters, but for the writers who fail to see the world has changed and choose to celebrate what made it ugly.