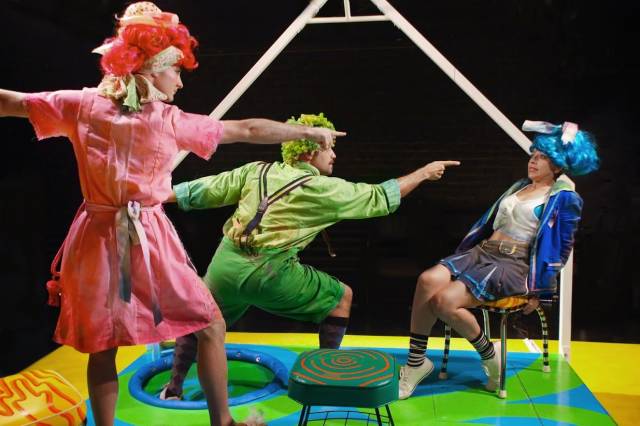 If the unlikely conjugation of that title throws you, it should.  Teach, Teacher, Teachest is not theater of the absurd; it is theater of the certifiable, in keeping with the Ionesco classic, The Lesson, inspiring it. David Koteles's play is also (pick one): a minimalist Cirque du Soleil; recess on the jungle gym at a particularly free-thinking junior high; a lone Marx Brother taking the lead in the Laurents/Sondheim Anyone Can Whistle Second Act; or the unholy love child of one of Genet's The Maids and a rhino out of, yes, Ionesco. Oh, hell, it's all of these, and more.
It's also less.  Persephone (Laura Butler Rivera) appears for tutoring with the esteemed Professor (Danial Irizarry, who directs), which occurs after a Gothically sinister encounter with the maid (Michael Leonard - or a young Joan Crawford: you decide). She is intent on preparing for her exams and, after a spectacular geography warm-up in which flying limbs identify global points, we get to the meat of the lesson. Persephone, rechristened Jane by her new master, is educated forcefully as to the nature of reality. Soldiers are freedom fighters, fast food burgers represent glorious choice, Monsanto is beautiful, and Lady Gaga is not a slut because we like her, as opposed to all other sluts who deserve death.  All right.  Inversion is swell and makes its thunderous point once again, but this is not the 1960s and we have, in a word, heard this before.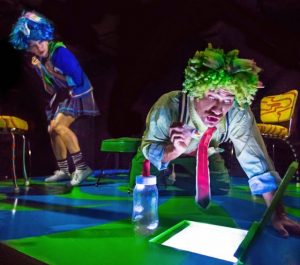 But don't worry about it.  Forget it.  The play's not the thing here.  The players, the staging, the resilient and abused set, and energy levels calling for a drug bust are, and they combine to make for a dizzying and captivating time. What matter simplistic iconoclasm when this much acrobatic wonder is before you? And our three players are literal marvels of character intensity somehow keeping pace with killer gymnastics, none more so than Irizarry.  Actually, with the possible exception of A Chorus Line, I've never seen any production where sheer ferocity of stage power so successfully compensates for flimsy content.  So, go. It's such, such fun, and let us all pray that Rivera, Leonard, and Irizarry enjoy dreamy sleep between shows.
Teach, Teacher, Teachest continues its run at INTAR Theatre through October 5. For more information and tickets, head to https://www.intartheatre.org/