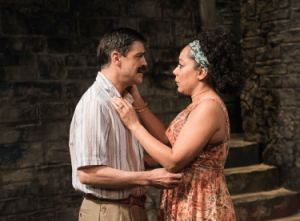 Those looking for clear narrative arcs and thematic structures will find the impressionistic Tell Hector I Miss Him, playing at Atlantic Theatre Company's Second Stage, difficult. The meandering work tracks the lives of several Puerto Ricans, using biting humor and specific dialogue. The play first received attention because of the presence of Orange is the New Black stars Selenis Levya and Dascha Polanco, but it's clear that playwright Paolo Lazaro, too, is someone we will continue to hear from. Her future is bright and her voice is fresh, vibrant and relevant.
At the center of the work lies a love triangle between bodega owner Mostro (Juan Carlos Hernández), his wife Samira (Leyva), and her lover and drug dealer Jeison (Victor Almanzar). This story connects most of the other sketches, albeit rather tenuously. In another love story, teenager Isis (Yadira Guevara-Prip) falls for Polanco's character, Malena. There are several other characters, plagued by addiction and lack of opportunity. Some are more memorable than others, like El Mago (Luis Vega), who entertains tourists with card tricks, but each character is specific and the stories, instead of following Western story mechanics, emerge throughout the course of the play as atmospheric portraits of a world, full of struggles, but not one void of desire and joy.
Levya and Polanco justify their star power whenever on stage. But is is Vega's performance that continues to haunt me -- full of hunger and humor, he is able to create a memorable character with very little, by drawing out a world outside of what is on the page. Yet the ambition of the work is not always fully realized in this production. Under David Mendizibal's direction, the cast, though quite able, feels disconnected, and the ensemble's performances come across as scattered. The bleak set Clint Ramos, though appropriate, feels one-note, primarily because the lighting design by Eric Southern fails to illuminate it in new ways as the play unfolds. The costume design by Dede M. Ayite is more successful, specific and intentional.
Flaws aside, there is a lot to love in this work by the 28-year-old playwright. Go and see it and be able to say, "I was there when her magic was discovered."