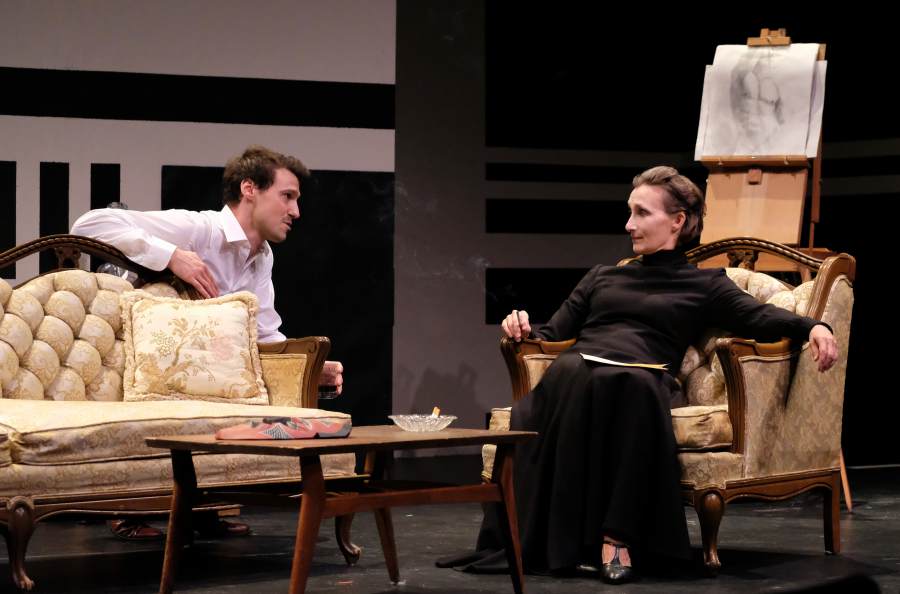 Art and desire are the heart and driving force of the Scandinavian American Theater Company's production of The Baroness, written by Thor Bjørn Krebs, directed by Henning Hegland, and translated by Kim Dambæk. That, and a protagonist who claims she's a witch, and has made a pact with Lucifer.
The Baroness tells the story of the relationship between acclaimed writer Karen Blixen and her adopted protégé, the handsome young writer Thorkild Bjørnvig. I mention he's handsome because Karen can't help but notice herself; she becomes transfixed by Thorkild, and it empowers her and changes his life. She teaches him about art, unlocks his desire, and he must decide if he wants to be the man she has crafted.
There's a lot to learn from Baroness Blixen's provocative ideas about art and living; the text is bristling with beautiful insights about the life of an artist and what it takes to succeed. Blixen is in fact a historical figure, the writer behind the Academy Award-winning stories Out of Africa and Babette's Feast. The translation generally avoids the potholes of overly formal sentence structure, and the lessons are written with potency and elegance.
These are imparted so well because they are performed so very well. Karen is performed absolutely wonderfully by Dee Pelletier. Her vocal and physical affect is at one moment tender, at another, commanding, and she uses it to craft a witch who exudes wisdom, moves from sympathetic to powerful to unforgivably selfish. It is an intuitive performance with an excellent grasp on the characters arch through the story. The detail with which she travels through the character is what makes the play worth seeing.
But the production itself has some drawbacks. While Blixen had a great grasp of the story, I did not feel much else did. The script was greater in scope than the parlor room structure contained; and I don't mean to suggest a living room can't hold a great imagination, just that this living room didn't. The staging and pacing did not seem to align with the movement of the piece, either, and some parts of the story lacked development; in one notable scene, the revelation of Blixen's mendacity was completely glossed over. A lot of the drama was whipped from the play because of it, and the work drags for that reason.
But it is incredibly easy to enjoy this play if you can listen to the Baroness herself speak, and I'm sure that's the way she would have liked it. Perhaps you have to be a bit of a nerd to see a play for a single performance and just the words of the play — why not read a book, right? — but, by the same token, that's the only reason people see plays, so attend and enjoy.