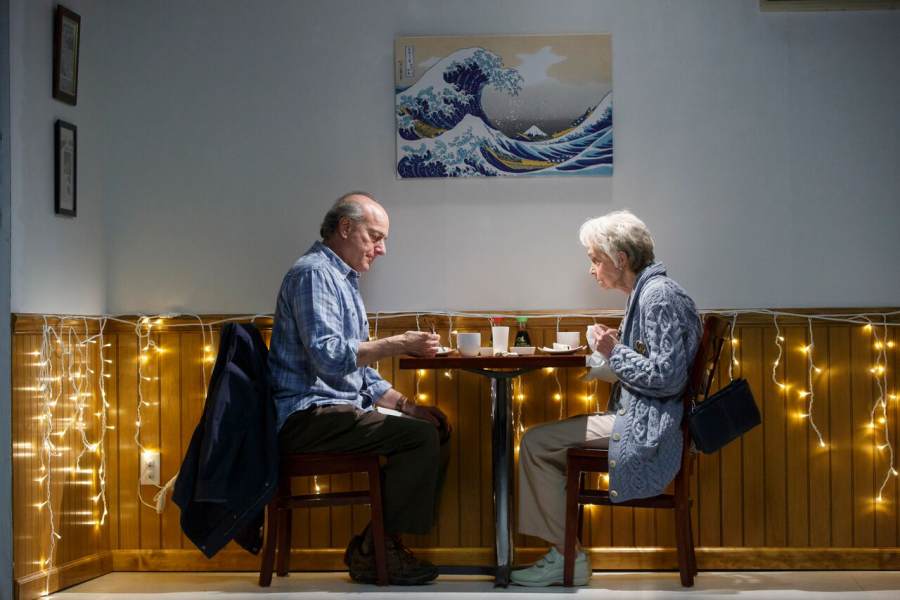 We seem to experience bursts of elation whenever some whiz-bang gerontologist suggests that human life can be extended in ways previously considered impossible. It's as if we've all been offered an extension on a lease for a property we thought we'd soon need to abandon. Hooray!
But is postponement of our mortality always necessarily a good thing? If quality of life has already become compromised by age 75, why would we look forward to living to 120? What if, despite our frugality, we've only stashed away enough funds to take us to 80-something? And what happens if our mental faculties are extinguished sometime before we hit the big 1-2-0?
These questions gnaw on everyone's psyche to one degree or another. And we've all been sent warning signals. Those among us who haven't yet coped with our parents' lives running down have likely watched grandparents begin to falter. Playwright Max Posner's new play The Treasurer (at Playwrights Horizons) was spurred by the physical and mental diminution of his real-life grandmother. The play's protagonist, identified as "The Son" (Peter Friedman), is based on Posner's father. In fact, in an opening address to the audience, this character riffs about how his playwright son has asked permission to write a drama dealing with the family's relationship with its fading matriarch.
Ida Roberts (Deanna Dunagan), the grandmother in the play, seems to have been a handful and a headache even when she was in her prime. When The Son was 13, Ida abandoned the family in order to marry an editor with political aspirations. Now widowed, she is an unabashed spendthrift with extravagant tastes. And she's broke. The Son, a geologist, has taken on the financial burden of paying for whatever Ida wants. He has the wherewithal to do so, unlike his two brothers, but he is resentful—and also ashamed of his resentment. As the play gets underway, he takes on the role of his mother's "treasurer," but he soon finds that he can't curtail her spending sprees. We want to groan when he caves to Ida's insistence on moving to a posh retirement facility. Although he doesn't believe in an afterlife, The Son is paradoxically convinced he'll go straight to hell because he has secretly wished for his mother's death.
The Treasurer is a 95-minute, intermission-less play, but it is rich and layered, and I think you'll agree that Posner has not skimped when it comes to substance. Pathos and humor blend in ways that make the audience squirm, especially when Ida's dementia intensifies.
Friedman is terrific portraying a deeply conflicted man, but one who is also wry and philosophical about his predicament. "I actually just don't have sad emotions," the character confesses to us early in the play. (That's a debatable point, actually.) Dunagan (who won a Tony Award for August: Osage County) is especially poignant in scenes in which Ida interacts with store clerks and other strangers, played by the protean Marinda Anderson and Pun Bandhu. Ida pulls such outsiders in with her breezy enthusiasm and sense of fun, then frightens them off when they see she is needy, mentally hazy, and operating without a filter.
David Cromer's direction is steady and shrewd. I especially liked the way he challenges the audience with long, uncomfortable silences. Laura Jellinek's flexible set has corners to which characters can retreat and obscure themselves. It's illuminated (or kept shadowy, as needed) via Bradley King's smart lighting design. Particularly effective is the final glimpse King gives us of The Son's face as the character imagines his own death and karmic punishment.