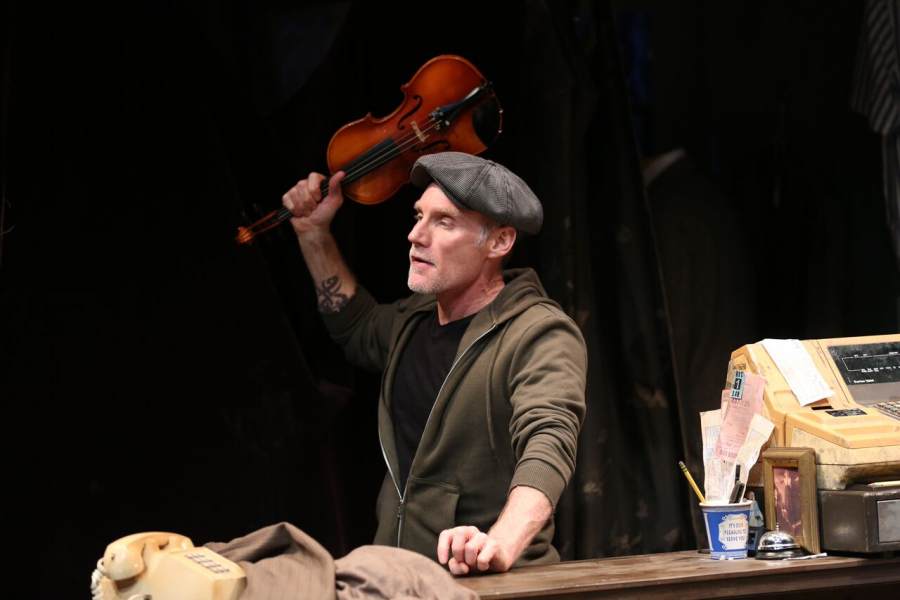 Award-winning playwright Dan McCormick provides a riveting and thoughtful story that intertwines themes of hope, luck, choices, and unrequited love in The Violin. In this new play at 59E59 Theaters, a priceless 1710 Stradivarius violin is found in the back of a taxi cab and soon becomes the catalyst with the power to change lives.
Tony-nominated Broadway veteran actor Robert LuPone plays Gio, a neighborhood "legend" of a tailor, with authenticity and quiet strength. Gio has spent his life doing what he felt was the right thing while quietly going about his business.  He is a trusted family friend and somewhat of a father figure to two brothers: Terry, a simple-minded young man, played touchingly by Kevin Isola, and his older protective brother Bobby, played with intense fervor by Peter Bradbury.
Bobby has unwittingly followed in his deceased father's footsteps and is always out to make a quick buck via less than ethical means.  His "daddy issues" have led to a life of drinking and crime, and though he is disappointed in himself and choices, wanting to finally put these parts of his life behind him, his genuine affection for his younger "special" brother Terry leads him to take bigger risks for one final big score.  Following the discovery of the priceless violin in the back of Terry's cab, mayhem erupts.
The relationship between the two brothers is intelligently explored, as well as the history of their relationship with Gio, and the story culminates and peaks satisfyingly into revealing a surprise hero in the end. In the midst of heavier scenes, McCormick has that rare knack of being able to insert moments of genuine comedy that are perfectly timed within the sincerest of moments, yet don't take anything away from the gravitas of the scene.  Although the story itself is completely absorbing, this special skill holds the audience for every step of the way, keeping us engaged and involved.
Director Joseph Discher seems to have tapped into the crux of the themes and nuances of the story, providing keen direction that never looks forced or unnatural, with plenty of movement and action on a non-changing set on which set designer Harry Feiner has spared no detail.  The set is filled with such loving affection for accurate minutiae of a tailor's workshop. All in all, a gripping piece of theater not to be missed.