Interview: Mandy Gonzalez on 'Hamilton', Being a Latinx Role Model and Her Show at Feinstein's/54 Below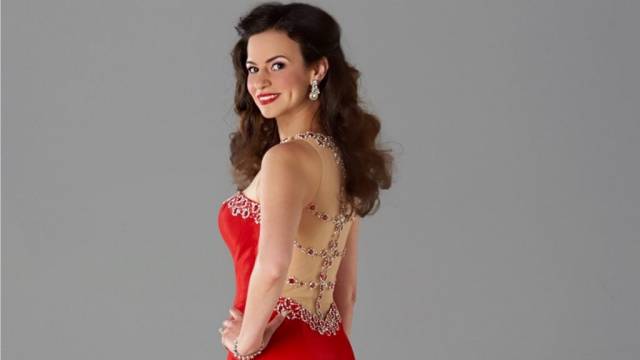 Mandy Gonzalez will bring her solo show Raise the Roof to Feinstein's/54 Below for two performances, February 12 and March 12. We spoke to the Hamilton star about what it's like to be part of a cultural phenomenon, being a Latinx role model, and her favorite Judy Garland album.
What's the theme of the show?
This is my second show at Feinstein's/54 Below and it's titled "Raise the Roof" because I feel like this is where I am right now in my life. My day job is working in Hamilton, and I love it, so it's a celebration of music that I love and what I've been doing for the past five years.
I got a glimpse of you singing "As If We Never Said Goodbye" from Sunset Blvd and you sounded great, how did you select the songs you wanted to include in the show?
For me it's always what story do I wanna tell, and what song I love that would allow me to tell that story. I wanted to tell the story of my homecoming to the Richard Rodgers for the first time, I did In the Heights there, and it's been six years since I'd been there. When I walked in it felt like coming home, I knew everybody, the stage hands, the doorman, I'm in the same dressing room...when I started telling this story to my director Eric Michael Gillett, my musical director started playing "As If We Never Said Goodbye" and thought that was perfect.
How do you keep the performance fresh night after night?
You can't get bored being on Hamilton on Broadway, this is what you always wanted to do. When you get bored it's time to go, it's a thrill to be with new people who have waited so long to see the show, it's exciting when Javi [Muñoz] comes onstage and says "Alexander Hamilton", those cheers...there's nothing like that. You want to be part of it.
You've also done Wicked which was also huge, with Hamilton however we see the phenomenon of people knowing every lyric and note before they see the show, because the cast recording is so huge all over the world. Do you ever feel like you have to live up to the expectations that the cast recording fans have?
I don't because the score is so stunning, it's a masterpiece. I listened to the album as a fan and then opened up the score when I got the job, and I was like "this truly is a masterpiece". I think it's exciting for people who know the cast recording to see the story visually, you can hear the album and it's brilliant, but then when you're there you can see the events. Their experience is even more personal because it starts with this love of musical theatre, that's how I started too, listening to cast recordings because nobody took me to the theatre as a kid, so when I got to see those moments for the first time it was so special. I'm having the time of my life.
Will you get to be in the In the Heights movie?
I don't know about that. That show will always be a part of me, so in whatever way I'm a part of it.
I'm a huge fan of Quantico, and I've always had the idea that being an actor is very similar to being a spy. Is that right?
Definitely, I teach a lot, I teach vocal lessons and theatre classes, and when my students ask me how can they do this for a living, I tell them whatever they end up doing their theatre training will help them in any aspect of your life. It allows you to use your imagination, to stand in front of people and present yourself, theatre enhances anybody's life, and when you say a spy it's the same. You need to use your imagination.
I read that you're a big Judy Garland fan, what are your favorite of her recordings?
My favorite of all time is Judy at Carnegie Hall and that's why I love doing spaces like Feinstein's/54 Below. Judy was the ultimate performer and gave people such intimate experiences, that's the only album I listen to during turbulence on a plane cause I figure if we're going down, we're going down listening to Judy. My grandma made me fell in love with that album, she would play it when she looked after us.
I always get so excited when I see someone whose name reminds me of my own. As a Latina artist, do you feel you need to be a role model to people who maybe don't know they can do what you do?
Yes, definitely. I had those role models before me like Chita Rivera who I look up to, and opened those doors for me, and I can continue to open the door, knowing that the next person is coming along.