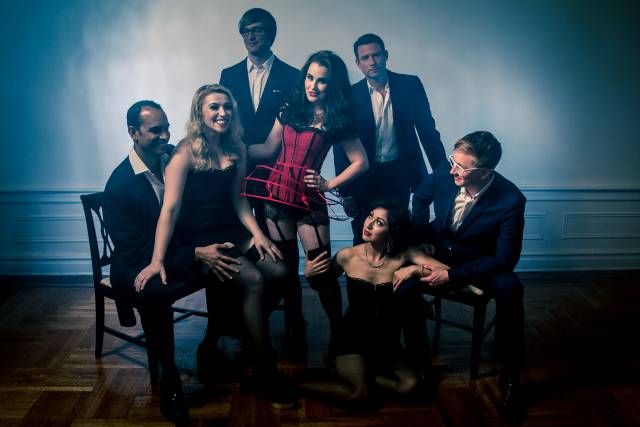 Sky-Pony's concert at The Sheen Center on January 28th is being dubbed as "the most important" in their career so far, and with reason, coming off the success of their musical The Wildness from 2016, and their album Beautiful Monster, it seems like it's been too long since they've done a pure all electronic pop extravaganza. But beyond the success of the band, the concert is significant for its political intentions, with all of the band's proceeds being donated to the New York Civil Liberties Union. Founding members Kyle Jarrow and Lauren Worsham have been quite outspoken about their worries over the new administration, and the concert will surely help create awareness of the causes that we must protect at all costs, while being a kick-ass night of delirious music. Kyle and Lauren were kind enough to answer a few questions we sent them via email:
What will make this the most important concert ever?
Besides having a little bit of everything (costumes, lights, choreography, a 45-person choir, new tunes, candy, etc…), we are also donating all of Sky-Pony's proceeds to the New York Civil Liberties Union. Of course, the hyberbole of "most important ever" is a bit tongue-in-cheek, but in this day and age we really do feel that donating to causes that matter to us and to our community (particularly the pursuit of civil rights for all) is very important. Perhaps even the most important thing! Plus, did we mention dancing girls and a full choir?

How do you put a set list together for such a prominent concert?
We put together a set list that includes both old favorites and some "B-sides." Tunes that we know our fanbase loves as well as some tunes that we don't play as often. Not to mention a few covers (Fugazi, Madonna and Simon & Garfunkel to be specific).

Has it been fun to go back to concert settings after doing The Wildness? What did you learn about performing from doing a plot show?
It's been a lot of fun to return to our rock concert roots! After The Wildness we realized that theatricality is a big part of who we are as a band. It's always been in the band's DNA, but I think we're even less afraid to pursue those more dramatic elements in our shows now. Lately we're also experimenting with stringing some narrative throughout our concert gigs. As part of this show, for example, we'll be debuting a chunk of a narrative dance piece that we've been developing with Nimbus Dance Works.

The concert will feature special guests, can you comment on what their roles will be?
We'll be joined by the dance company Nimbus, with whom we're developing a dance piece called ESTHER. They're an inspiring group led by choreography Samuel Pott, who really believes in the value of the arts in bringing a community together. We're also joined by the West Village Chorale, another group we love, singing backup on a tune we first premiered at The Park Avenue Armory Gala last October. It's pretty striking to hear a 45-person choir backing up a live rock band. They will blow your mind!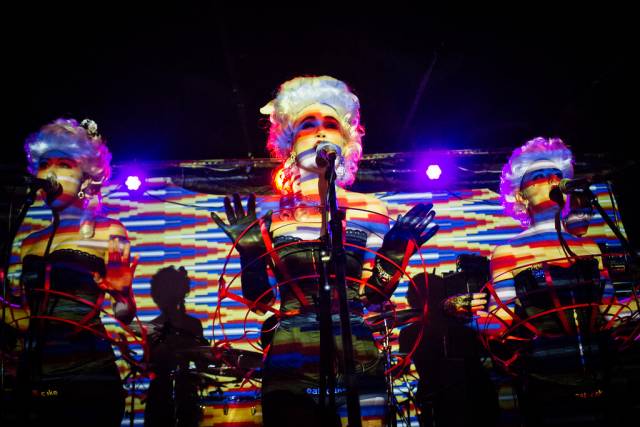 The concert will take place a full week after the Inauguration. Will it be a celebration for our survival, or a night of mourning?
With President Trump in the White House – and so much irresponsible, ignorant, frightening rhetoric flying around – it can be easy to despair. But we of Sky-Pony have always reveled in finding the lighter side of the dark. If there's ever been a time to do that, it's now! So this evening will absolutely be a celebration. Of survival, of hope, of resistance. It's a chance to gather together our community of friends, fans and fellow artists and look forward. Music and laughter will help us keep the fighting spirit going.
Why is it important to help the NYCLU?
The incoming administration has given indications that it wants to dial back much of the social progress we've made in America. For many, that could mean fewer rights, less visibility, less respect. We believe in protecting the rights of all communities, including people of color, LGBTQ, immigrants and women. The NYCLU have been tirelessly fighting for civil rights for decades, and we believe this fight will be more important than ever now.
What can we do to help the NYCLU after the show?
You can volunteer! You can donate! More info is available at www.nyclu.org. The NYCLU is just one of the many organizations that will need our help (both our dollars and our time) over the next four years. Don't be afraid to step up and work for change. Every little bit counts.
As artists, what do you think will be the biggest challenge the next four years present?
Staying hopeful! Like we said earlier, it can be easy to despair with Mr. Trump in the White House. But despair is paralyzing. It's really, really hard to make art when you're filled with despair. So we have to keep looking forward, keep working and keep supporting each other. Art is important. We have to keep making it.
Can you comment on how important it will be for the arts to be more about empathy and understanding people with different views from ours?
Art has always had the ability to bring different people together, and to help them understand each other's experiences. At a time when our country is so divided, that's more important than ever. Empathy, and open-mindedness, is definitely key to this. Which is not to say that anger has no place in art. It does, especially in the face of grave injustice. But if it becomes the dominant mode, art tends to lose its special superpower of bringing us together. And we need that superpower now more than ever.
What should we wear to the show?
Whatever makes you feel sexy and powerful.
For tickets to Sky-Pony go here.