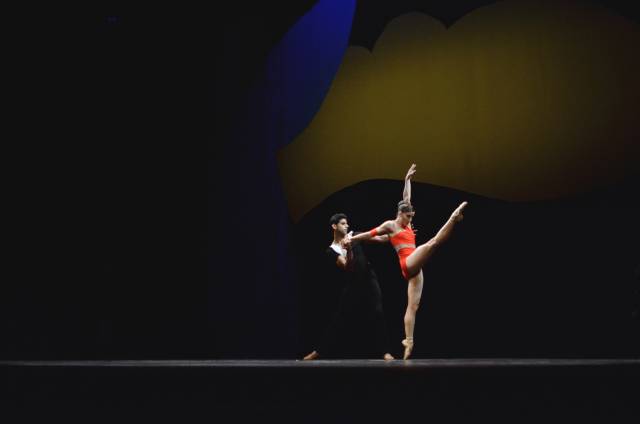 At the Ballet Festival at The Joyce Theater, The Ashley Bouder Project offered originality and a daring multi-media work to the stage.
The 2015 Ballet Festival features young dance companies, interested in moving beyond their company training. Ashley Bouder became a principal dancer at the New York City Ballet after first being a soloist in 2004. Boulder is exuberant, working with other skilled NYCB dancers in Unsaid, In Passing, and Rouge Et Noir.
In the world premiere of Unsaid, choreographed by Adriana Pierce with music by Edvard Grieg, light squares create sharp boxes around the dancers. Ashley Bouder and Preston Chamblee are pensive and forceful, as they consider the differences between dark and light. With tension and precision, they move through what is inexpressible. Lighting designer Jimmy Lawlor really knows how to highlight the artist's intent.
With In Passing, The Ashley Bouder Project takes ballet to the next level. The piece utilizes quick video, creating a sense of fear and anxiety, as we see Bouder move from the role of a producer to role of dancer. Kevin Schlanser (winner of fan audience award for best documentary feature at the Dances with Films Festival in Los Angeles) builds a world where the process of dance is analyzed and criticized. Bouder is extraordinarily conscious on the screen; the photos of her sitting in the audience are striking. This world premiere takes place in a decorated room, a rehearsal hall with high ceilings, and a tunnel. Director and choreographer Andrea Schermoly seizes shadow and light in each frame that the dancers leap into the air. It's evocative.
The final piece, Rouge Et Noir by Joshua Beamish, is a transformative journey. Set design by Mark Howard features a large backdrop with a hint of red at the top. Bouder appears in flesh colored leotard; the other dancers -- Alexa Maxwell, Indiana Woodward, Amar Ramasar, Sebastian Villarini-Velez, and Peter Walker -- appear in blue and light orange, provided by costume designer B Michael. Blending in and moving away from the backdrop, they consider their form and hold their prominence on the stage.
Music director Elad Kabilio misses none of the passion in this inspired performance, with music by Dimitri Shostakovich. With violin, viola, and cello, the intersection of music and design is effortless. It's a fine picture at the end with Bouder completely embracing the drama, appearing in red.
The Ashley Bouder project was at the Joyce Theater from August 8 at 8PM and August 9 at 2PM. The Ballet Festival is running through August 16 at the Joyce Theater. Other performances in the festival include Joshua Beamish/ MOVE: the company, Chamber Dance Project, BALLET X, Emery LeCrone, and Amy Siewert's Imagery. The Joyce Theater is located at 175 8th Ave. at W. 19th St.