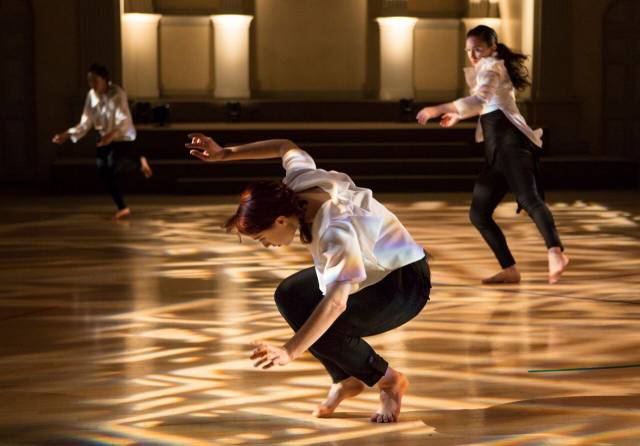 In true pioneering modern-dance fashion, choreographer Teresa Fellion has set out to do something that many creators might call counter-intuitive: getting butts OUT of seats. In the third version of Fellion's The Mantises are Flipping, each audience member is told, "Feel free to set your stuff down and explore the space."
We step into what seems to be a human-as-art exhibit. The subjects wear starchy, ill-fitting white tops and slim black trousers (credit to costume designer, Ljupka Arsovska, for this cleverly-confusing and interesting silhouette, and for a lovely reveal later). Their feet look planted while their upper bodies twitch and teeter. People carefully maneuver around them, and macabre strings whine in the distance. Lighting quietly shifts from warms to cools by the meaningful handling of lighting designer, Tim Cryan.
To sit in a seat and not explore does sound more comfortable and safe. However, this distance is exactly the approach to modern dance that Fellion is shaking her audience free from. She, with her company of seven dancer-artists, are saying, "We need you here with us. We only exist with you." She eradicates any idea that a dancer exists without an observer. She causes the relationship between dancer and audience to be symbiotic.
The Mantises are Flipping W.3 starts from the moment you walk in the door. The fury does not decrease until it ends. Are these little mantises that are struggling to exist, as the title suggests? Is that an ever-thickening forest she is feverishly escaping? Or are these atoms in the universe, playing victim to the winds and the tides? Perhaps we are watching a deadly addiction take hold inside someone's psyche. It doesn't matter. It is absolutely fascinating.
Teresa Fellion's dancers have a strong idea of what captivates an audience. Their faces, so refreshingly animated, indicate a rich inner life. Their bodies become like a paint brush that uses our imaginations as a canvas, painting hundreds of interpretations of life.
The string-based music of Ryan Edwards and John Yannelli presents a score void of memory and full of beauty, mood and tension. Unlike the lilting influence that a piano has on a dancer's body, these strings cause the dancers to lengthen in space, dangle midair or be tugged to the earth's core.
Fellion's choreography demands high extensions, a comfort with weight-bearing pas de deux, massively deep second-position plies (and many of them) and ever-changing centers of gravity. That, however, is not the heart of Fellion's dance theatre. The dancers use their full instruments to exist in the context of an imaginary story. Isn't that why we go to the dance? Technique is interesting for about five seconds. It is the marriage of technique and inner life that makes the dancer, as another pioneering woman of modern dance described, "an Athlete of God."