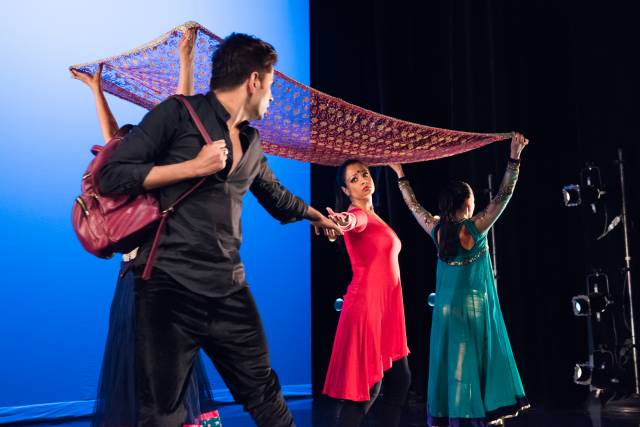 Junoon Performing Arts, an Indo-Contemporary dance company based in New York and New Jersey, presented their first major theatrical production called Dil Se: A Journey through Emotions on Sunday May 10 at the Manhattan Movement and Arts Center. Featuring 22 Bollywood songs set to choreography that ranged from ballet and jazz to Indian folk and classical, Junoon's Dil Se is about as thorough an exploration of the Bollywood aesthetic as I have seen on a stage in the United States.
While retaining the sequined skirts and brightly-colored shirts, Junoon opened up the very idea of what Bollywood means, creating a production that is sometimes sensual, sometimes traditional, and sometimes downright whimsical.
Junoon's Co-Founders are Chandan Hingorani and Rehan Qureshi; the Artistic Directors are Sonia Mukherji, Ruby Verma, and Yeng Wong. Mukherji tackled most of the choreography and her pieces were the most memorable. Her work, driven by story, bridged the gap between the abstract and the tangible beautifully. Pani Da, a contemporary piece, showcased interchanging couples in a variety of moods and tones, leaving the audience breathless. Abhi Kuch turned love at first sight into a tango of affections between three students and one girl. The piece, light on its feet with easy movement, reminded one of a frothy milkshake - nostalgic, familiar.
Other pieces added even more dimensions and layers to the production. Laaga Chunari Mein Daag by Chandan Hingorani was an affecting evocation of the plight of women in brothels in India and Meri Behna by Monika Chadda and Kanika Chadda-Gupta, an ode to sisterhood, blended the personal and the universal effortlessly. Even the large group numbers that served up the more traditional Bollywood numbers featured energetic and expressive dancers moving in sync and creating a 'party-like' atmosphere. As an antidote to the glossy, glitter-soaked numbers, Maya Singh's quieter interpretation of the ghazal Hume Tumse Pyar Kitna with contemporary movement emerged as one of my favorites of the night. In a special appearance, SA Dance Company, led by Payal Kadakia, provided a throwback to the nineties, with a charming performance.
If there is a complaint I have, it's in the arc of the overall production. From point A to point Z, there isn't a discernible enough narrative thread and the breadcrumbs left to the audience in the form of voice-overs and descriptions are vague at best, adding no further meaning. The dances unfold, more like a recital, rather than a production. With no set and limited lighting changes, the company also hasn't utilized all the theatrical tools at their disposal to tell not just a series of tales, but a larger story as well.
This is not criticism, but an opportunity for growth for a young company, which shows much promise. For me, Junoon has provided a whole new way to listen to the songs I grew up with.
You can find out more about Junoon's upcoming classes and their fall production on their website -www.junoonperformingarts.com