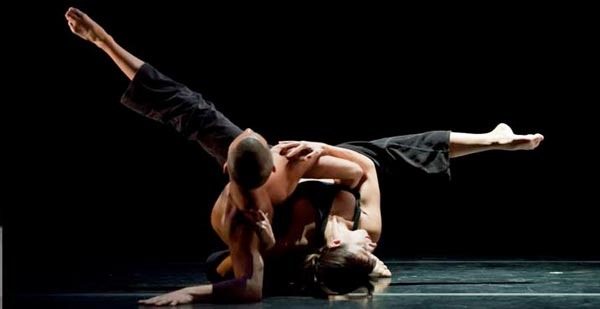 Look out, modern dance world, the young ones are comin' for ya. If this is what we in the dancerverse have to look forward to, the world is about to look jarringly different. On Friday, June 19 at the New Jersey Performing Arts Center, I watched what happens when four choreographers and all their dancers unapologetically and unabashedly place their whole, exposed heart on stage.
To call this 'modern dance' is to undermine the fact that these young choreographers, Robert Mark Burke, Lauren Connolly, Kyle Georgina Marsh and Arielle Petruzzella, have created living, breathing pieces of theatre. These four young innovators, under the guidance of their mentors, have brought a living psyche and story to the stage, not just dances.
First up, choreographer Lauren Connelly, mentored by Claire Porter, gave us two examples of dance theatre: Displayed Exposure and Borrowing Identities, two sublime works that sharply contrast yet make sense together. With clothes hanging on the line that is strung across the stage, the environment feels backwoods, deep-south, and a bit scary. The dancer's supple muscles effortlessly lift, yank, and shove each other, at once violent and passionate. The simple costumes by Meagan Woods and Lauren Connolly gave an understated yet effective mood.
Robert Mark Burke, with mentor Randy James, brought us Sheath. A personal favorite, this dance featured dancers Kayla Collymore and Alexander Olivieri. The two moved in perfect harmony as they seemed to mimic waves washing in and out of shore, tipping east and west, pulsing north and south, never going slower than a 1-2-3 waltz count for what seemed to be ten minutes. The music stops abruptly but the two do not stop dancing. Our ears are filled with their heaving and constant breath. Our eyes are filled with their powerful, soulful pas de deux.
Kyle Georgina Marsh & the Dancing Georgina Project, mentored by Nai-Ni Chen, brought Arrow Dynamic Females to the stage. Set against the backdrop of a rather eerie monologue by Berke Gold, four female dancers, Monica Gonzalez, Iris Platt, Morgan Hille Refakis and Shelly White, explore identity, sex, ambition and what it means to be a man/woman in a lustful microcosm. The movement does not shy away from widely spread legs and sensual provocation, elevating the piece to fantastic spectacle.
Last but delightfully not least, Arielle Petruzzella & Zella Dance, under the mentorship of Carolyn Dorfman, began her section with a solo, I Am Coming for my Things, that was so mesmerizing and so heartfelt, it made me hold my breath and widen my eyes, mesmerized by the rough emotional commotion that Petruzzella embodied. She is sheer ecstatic beauty in motion. The solo was followed by a large group piece, the fence that you sent me, which took the audience on a vague and intriguing voyage. The choreography reminded me of a machine that had just been hit a blow to its guts, one moment the tiny parts co-existing and the next moment rebelling against itself and each other, gorgeous.