Review: Les Ballets Trockadero de Monte Carlo Perform "Swan Lake," "Patterns in Space," "Pas de Six from Napoli," and "Raymonda's Wedding"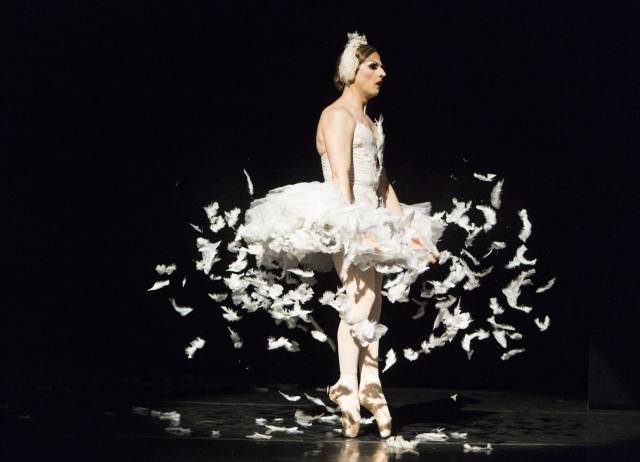 Ballet is usually known for its precision and perfect ballerinas, not its humor. Not so with Les Ballets Trockadero de Monte Carlo. Part drag show and part ballet, the all-male, multi-ethnic parody dance troupe currently has audiences in stitches with two programs at the Joyce Theater. Ingeniously led by Artistic Director Tory Dobrin, the Trocks are a must-see show of the season.
The Trocks incorporate a lot of broad physical comedy that is downright clownish throughout their performances. There are pratfalls. Dancers miss their cues. There is always one performer who hams it up, winking and smiling at the audience. But in between the flailing about, falling on faces, and near head drops, the dancing is top-notch. The female characters all dance en pointe, some of whom are quite broad-shouldered and tall.
The Trocks begin Program A with a selection from Act II of Swan Lake. A voice over the loudspeaker announces the night's substitutes, setting the scene for the comedy that ensues. They all have ridiculous mock Russian names -- Maria Paranova, Yakatarina Verbosovich and Tatiana Youbetyabootskaya, for example. These are the aliases of the enormously talented men of the Trocks, all of whom play multiple characters. Each "ballerina" comes with an equally hilarious fictitious bio in the program.
Swan Lake parodies the choreography that Lev Ivanovich Ivanov of the Russian Imperial Ballet made famous. Alla Snizova (Carlos Hopuy) is exquisite as Odette, the princess who gets turned into a swan by the evil Von Rothbart, danced by Velour Pilleaux (Paul Ghiselin). When Prince Siegfried, danced by Vladimir Legupski (Duane Gosa), falls in love with Odette, he and his friend Benno (Raffaele Morra as Pepe Dufka), set out to save her. Before the final intermission, there is a reprise complete with a flapping molting swan (costumes by Mike Gonzales).
Patterns in Space parodies postmodern choreographer Merce Cunningham and his romantic partner, avant-garde musician John Cage. It features music performed by Lariska Dumbchenko (Morra) and Yuri Smirnov (Robert Carter), including a kazoo, a xylophone, paper bags, animal sounds, candy wrappers and candy, grooming devices, bubble wrap and gargling, among others. This comical soundscape provides the backdrop to three velvet-clad dancers (costumes by Ken Busbin): Irina Kolesterolikova (Giovanni Ravelo), Varvara Bratchikova (Giovanni Goffredo), and Araf Legupski (Laszlo Major), brother to Vladimir.
In the Pas de Six from Danish choreographer August Bournonville's Napoli, the visual comic effect comes from two small, effeminate men, Ketevan Iosifidi (Long Zou) and Innokenti Smoktumuchsky (Hopuy), rotating partners with four large "ladies" who tower over them: Nadia Doumiafevya (Philip Martin-Nielson), Nina Immobilashvili (Alberto Pretto), Eugenia Repelskii (Joshua Thake) and Doris Vidanya (Matthew Poppe). At more than one point, one of the larger ballerinas lifts her partner. Each dancer performs an intricate solo and this is one of those times when you have to marvel at how graceful these men are.
Lastly, the Trocks perform Raymonda's Wedding, which parodies choreography by Marius Petipa. It involves the wedding of Hungarian noblewoman Raymonda (Morra as Dumbchenko) and Count Jean de Brienne (Ravelo as Boris Mudko). As their bridesmaids and groomsmen prepare for the event, a White Lady (Ghiselin as Ida Nevasayneva) looms over the proceedings. This ballet is beautifully danced and features courtly set design by chas b. slackman.
It's pretty much a guarantee you'll never laugh so much at a ballet. It is highly entertaining to see large men dance en pointe and in tutus. You know these are all classically trained dancers and that the mistakes are intentional, yet it's amusing to think maybe they aren't and these are just really unprofessional dancers. That's the great thing about Les Ballets Trockadero de Monte Carlo -- they keep you on your toes.