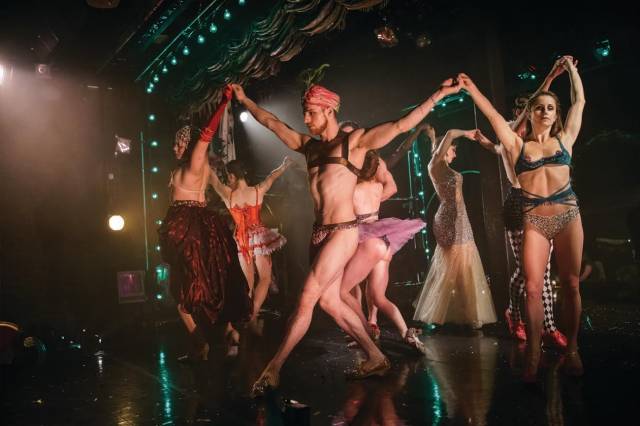 For the second consecutive year, Company XIV has brought their acclaimed Nutcracker Rouge to the stage. Running through January 18 at the company's home, XIV,  Austin McCormick's vision of an adult version of the Nutcracker is fun, dark, mysterious, and full of skin-tingling, breath-taking, and eye-catching acts.
Company XIV is known for creating Baroque-Burlesque works where theater, dance, live music, circus, and opera melt together with extravagant design elements, and Nutcracker Rouge is no exception. So many luscious moments exist within this production. Audience members stare, mouths agape and eyes wide, at its riches -- much like our protagonist, Marie Claire (played by the beautiful Laura Careless), as she enters the Kingdom of Sweets where sensuality and sexuality are explored and celebrated. Shelly Watson welcomes us into this world of sexual awakening with Jerry Gilmer and the Fireballs' "Sugar Shack". During this bouncy and flavorful number, she sexily and swiftly strips away her top, revealing gorgeously bejeweled pasties. Watson, playing Madame Drosselmeyer, and Brett Umlkauf (Monsieur Drosselmeyer) are the main instigators, key players in the gender-bending and erotic dream-like adventure.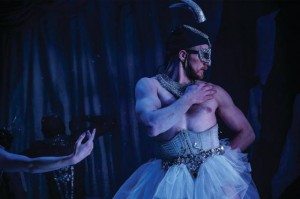 You don't have to be familiar with the traditional Nutcracker ballet to enjoy this production. Anyone can appreciate numbers such as "Wind-up Dolls" set to Charles Trenet's "Boum", where human-sized wind-up dolls dance intricately, continually having to re-wind each other. Although using songs like "Boum", the folk song "All The Pretty Horses", and Lana Del Rey's "Yayo", most of this production is set to Tchaikovsky's original score.  A couple of Duke Ellington covers are thrown in for good measure: the sexiness of Laura Careless's Sugar Plum Fairy solo is amplified by setting it to Ellington's "Sugar Rum Fairy." The sounds stretch and dip and linger, allowing each moment to be savored. Turkish Delight, set to Tchaikovsky's Arabian Coffee, is a Pole Duo where the handsome and hunky Steven Truman Gray and petite but fierce Allison Ulrich completely wow the audience with their strength, poise, and seamlessness. At one point, Gray is positioned horizontally and spinning while Ulrich stands on his chest in heels! The musical choices help to pay homage to the traditional tale, placing us in contemporary times, while also expressing the story's timelessness.  Here are the universal and timeless desires of adulthood -- sensual delights and sexual fantasies are neither old nor new. And of course, dazzling pasties, sexy underwear, and high heels never go out of style.