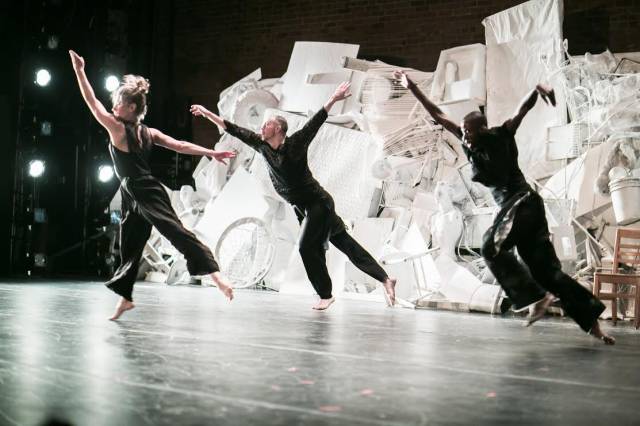 Fall Further III was presented by Pentacle as their third annual event on Monday, October 13th. On this evening at the Ailey Citicorp Theater, New York City choreographers within the Pentacle organization came together to present works of either excerpts or works in progress to form a solid evening of contemporary dance. Somewhat less established, Pentacle's Gallery artists to contribute works were danceTactics, LCTC – Lorraine Chapman the Company, LEIMAY, and The Moving Architects; the well-established David Dorfman represented Pentacle's Roster artist group and closed the show with an excerpt from Lightbulb Theory.
Pentacle is a not-for-profit organization that seeks to promote New York City choreographers whether audiences may be familiar with them, or maybe not so much. Regardless, within both the Gallery and Roster groups are dance companies that are producing intelligent and creative works. The artists work diligently to develop their own forms of communicative movement.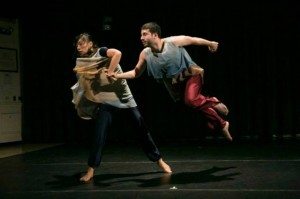 The show was well-rounded, and fresh. LEIMAY opened the show with an excerpt from Becoming-Corpus,  which is a stunning mesh of visual art and dance where projection alters our visual senses in a hypnotic and mesmerizing way. The works in progress were LEIMAY's Frantic Beauty Study #2, which takes a look at the ambivalence of beauty with its positive and negative effects on society, and LCTC – Lorraine Chapman the Company's 8 Scenes, inspired by the Kabuki play Benten Kozo. danceTactics performance group extracted text from Müller's postmodern drama Hamletmachine to create A Piece of Hamlet's Machine. The excerpt we saw was an artistic expression of various individual reactions to Hamlet, dependent on the individual psyche. Next was a piece propelled by a mix of sounds and strong movements that highlighted feminine strength and beauty. Titled Demure as Dynamite, The Moving Architects presented a reflection on the poetry of Thomas John Carlisle, which focused on Biblical women.
David Dorfman Dance's excerpt from Lightbulb Theory closed the evening with a metaphorical question: "Do you this it's better if a lightbulb flickers before it goes out, or just goes out?" Dorfman does not give an answer but asks the question poignantly and with deep consideration of losing his own father to death.