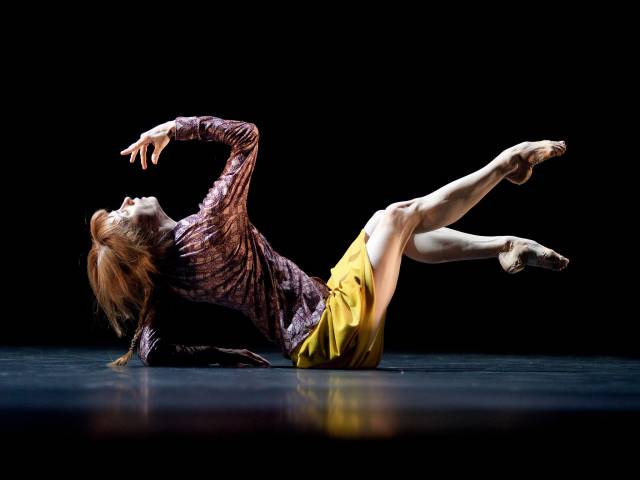 There is nothing short-sighted about celebrating a Life in Progress. Sylvie Guillem's final performance celebrates 39 years of dance.
Sylvie Guillem: Life in Progress at New York City Center is an extraordinary glimpse at the dancer, who is fifty and will be retiring from the stage in December. Performing works choreographed by Mats Ek, Akram Khan, and Russell Maliphant, Guillem has freedom of interpretation, bounding across the stage, bringing sheer, physical might to the stage.
Guillem is potent. In the first piece, Technê, by Akram Khan, a metal tree serves as a focal point. Live musicians onstage fill the space with violin and the sound of a beat box. It's a unique orchestration with a modern feel. With the music pulsing underneath, we get every sense of desire. The dance asks us to not only question flexibility and our limbs, but also our place in the world. Though Guillem's elbows appear almost double jointed, all we see is the urgency and the need to reach out.
The second piece of the evening, William Forsythe's Duo2015, is a fine work performed by Brigel Gjoka and Riley Watts. A reworking of his 1996 piece Duo, it requires great precision from the dancers. As they whirl in space, their arms are not at sharp angles, like scissors, but cylindrical, flying from the core and the root. Their kinesthetic relationship is impressive. With added breath, the duo absolutely finds completeness in each phrase.
Lighting design by Michael Hulls allows for the mood to shift for the US premiere of Here & After. Guillem emerges, tall with a sense of verve. Her presence onstage reveals not only beauty, but also longevity. Choreographer Russell Maliphant acknowledges Guillem's retirement, and isn't afraid to show her great agility. Dancing in the large dance area, filled with bright squares of light, Guillem and Emanuela Montanari are athletic, but also playful, showing a lighter side to a career that included ballets such as Swan Lake, The Rite of Spring, and Grand Pas Classique.
Humor was easily found in BYE. The charming piece by Mats Ek involves an inspired use of film by Elias Benxon. Seeming to emerge through the screen, Guillem bounds around like a lost clown, searching for the right room to be in. She looks exuberant, with her 50 years nowhere near weighing on her. With Guillem sometimes seeming to channel Pierrot and Charlie Chaplin, Mats Ek's choreography is evocative and more sophisticated than pantomime, holding traditional vocabularies and structures. Guillem is able to say goodbye, but knows that many rooms with many others will await her. Years of progress as a dancer provide a pathway to being a champion of the arts for years to come.