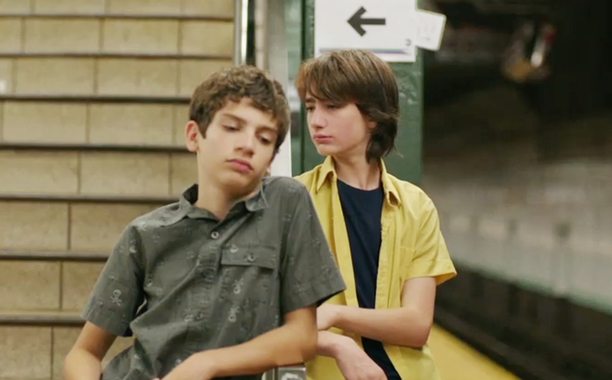 Little Men, from director Ira Sachs, is the kind of film that initially seems quite modest, from its short length and its understated style and its tight focus, in a city of millions, on two young boys and their short but significant friendship. However, by the end of the film, the viewer realizes that this friendship is a lens through which we witness the pressures and contradictions of living in a city like New York and the film's true subject is no less than the inevitable puncturing of the innocence of childhood and the transition into a more morally fraught existence.
Jake (Theo Taplitz), quiet, dreamy, and little understood, is on the cusp of his teen years when his life is uprooted to another borough. After the death of Jake's grandfather, he and his parents, struggling actor Brian (Greg Kinnear) and breadwinning therapist Kathy (Jennifer Ehle), move from Manhattan to the grandfather's longtime residence in Brooklyn, in a neighborhood now rapidly gentrifying. The inheritance of the house includes inheriting commercial tenants on the ground floor, namely a far from thriving dress shop operated by Leonor (Paulina García), a Chilean single mother. Leonor has a son Jake's age, Tony (Michael Barbieri), and the two boys strike up an unlikely friendship. Tony's brash personality is the opposite of Jake's, but he brings out the best in Jake and the two encourage each other's artistic pursuits – acting for Tony and illustrating for Jake. But while Leonor and Tony are a blessing for Jake, they're a headache for his parents. Brian's father was close with Leonor and set her rent at a rate now five times under market value. When Leonor's lease expires, Brian tries awkwardly to negotiate a rent increase, but Leonor refuses to budge an inch, resorting to emasculating Brian and implying (perhaps truthfully) that she was closer to his father than he was. Once Leonor chooses this tack, the outcome is tragically inevitable, even as the boys' friendship has grown to the point where Tony enlists Jake to join him in his dream, attending the selective LaGuardia High School for the arts.
Some larger aspects of Little Men falter. The lives of the creative class in Brooklyn is well-trod territory and Little Men's depiction of the adults' class anxiety doesn't always distinguish itself. Jake is somewhat remote as a protagonist and the film could surely lose some of the many shots of him forlornly rollerblading. But the film shines with its truthful details of childhood, commendably underplayed by the young actors. Interactions with adults both engaged and oblivious make a lasting impact on their children. Both boys ache for the guidance of a father, but Tony's is absent, while Jake's is preoccupied and distant. The boys' bond is deep and exists outside of their other relationships like a love affair. At first, the friendship is an uplifting reminder of children's ability to look past distinctions of class and race that cloud the judgment of adults. When they learn about their parent's conflict, they react in a fittingly childlike manner, the silent treatment, but unwittingly this precludes any chance the boys had of forcing their parents into compromise with a more mature method. The conflict pulls the boys unwillingly into adulthood and the true scope of their loss is driven home in a devastating coda, in which the Jake sees Tony from afar but can't speak to him; he and the audience are now aware of the unbreachable distance the world has imposed between him and his former best friend.