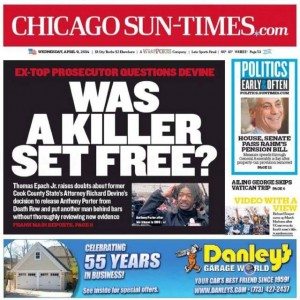 A Murder in the Park depicts a terrible miscarriage of justice at the point where politics, law enforcement, and the media intersect. If the filmmakers convincing argument is true, a killer is once again walking the streets of Chicago while in his place a patsy is still languishing in prison after fourteen years.
The story begins in 1982, when a young couple is brutally murdered at the swimming pool of a Chicago park. There is no physical evidence, but four eyewitness accounts serve to put Tony Porter on death row for the crimes. In 1999, about 48 hours before Porter's scheduled execution, a Northwestern professor and a team of students showed the media a confession from another man, Alstory Simon. Porter was summarily released, and the media embraced Porter as the face of the anti-death penalty movement, amidst images of Porter literally embracing the students who had helped free him. In large part because of this case, the death penalty was abolished in Illinois.
It was a perfect story for TV news, uplifting and unexpected, provided you didn't look too closely at the details. Most journalists were willing to take professor David Protess at his word; after all, there was a confession from another man. The only people unsatisfied with the new story were the police officers involved in the case, who remained certain they had arrested the right man and now watched with disgust as he was interviewed on TV as a cause célèbre.
In the years following Porter's release and Simon's incarceration, the filmmakers Rech and Kimber probed the details of the case. They found that Protess and his students had neglected to interview all but one of the witnesses, all of whom fingered Porter as the killer. They dismissed the testimony of the one witness they acknowledged, on the basis that he couldn't have seen the crime because a fence was in the way – true, in 1999, but not in 1982 when the murders occurred. When they looked closer at Protess and his team, they found the students to be naïve accomplices to the heavy-handed tactics of Protess and private investigator Paul Ciolino. Protess would contact witnesses, who were usually impoverished and poorly informed, and offer cash gifts and legal help in return for recanting testimony. If that didn't work, he would call on Ciolino.
The film's most chilling scene is Simon's description of being railroaded into confessing by Ciolino. Under the guise of being police officers, Ciolino and another man forced their way into Simon's home at 6:30 AM after Simon had been up all night using cocaine and alcohol. They intimidated him both with guns and with a videotape of another man (actually an actor) testifying that Simon was the real killer, which they said would land him on death row. The only solution was for Simon to confess to them on tape using a script they had written, which Simon did. Protess and Ciolino then provided Simon with a lawyer, who instead of truly representing Simon, aided them in their own agenda. Then the media did the rest of the work for them, pressuring the scandal-fearing State Attorney's office into releasing Porter without ever receiving or authenticating Simon's confession tape, only seeing it on CBS.
A Murder in the Park is a gripping crime drama; the violent crime at its center is fairly clean-cut, but the political machinations behind it are far more complex and far-reaching. This is valuable and thorough, if disturbing, investigative reporting. Regardless of your thoughts on the death penalty, twisting facts and imprisoning an innocent man is a horrific way of campaigning for its repeal. Due in part to the film's efforts, the case was reopened for review last year, and less than a month ago, Simon was set free. This happened so recently that it's not covered in the film, but provides a happy ending to the real story, though the fact that he could remain in prison for over a decade should still give pause.  A Murder in the Park should persuade all of us to look more closely at news stories and not accept a compelling narrative over factual research; if it seems too good to be true, it probably is.