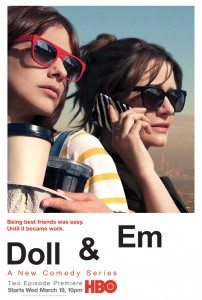 Fans of quality television were left reeling this past year when HBO announced that they were dropping the axe on four beloved shows by canceling freshman comedy "Hello Ladies" and announcing that the upcoming seasons of "Boardwalk Empire", "The Newsroom", and "True Blood" would all be their last. Conventional wisdom says that HBO must have some promising new shows coming our way soon if they're willing to part with so many established brands at once; either that, or "Game Of Thrones" is just too damn expensive. Thankfully, the former is the more likely solution, given the high caliber of their newest show, "Doll & Em". The comedy tells the story of a woman who starts work as her best friend/movie star's assistant, and how their new working relationship threatens their decades-long friendship. We got the chance to screen the entire first season, and now we've compiled a list of reasons why should give this comedy a chance, even if you're mad at it for stealing your favorite show's spot.
5. It's British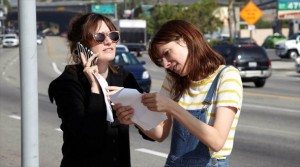 We could write a whole essay on why British people are so funny -- it has something to do with watching their stiff upper lips crumble in the face of absurdity -- but suffice it to say that if you were a fan of the original "Office" or the classic "Fawlty Towers" or the absolutely fabulous "Absolutely Fabulous", then you should fall easily in love with this equally British-y sitcom. Even more importantly, the fact that "Doll & Em" is a British production means that it didn't actually steal any time or resources from your favorite HBO shows. The cable network simply acquired the rights to air the episodes in the United States, which means you don't have to blame the show for Vampire Bill getting staked. "Why can't we be friends?" asks the music that plays over "Doll & Em"s credits. Don't worry, girls -- we can. And we will be.
4. It's perfect for binge-watching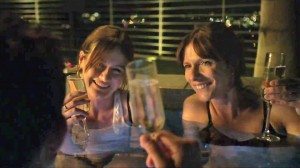 At only six episodes, "Doll & Em" is perfectly sized for bingeing. The show premieres this Wednesday at 10pm, and every week HBO will air two episodes back-to-back, so you get double the fun every time; or, you can just wait three weeks and watch all six episodes at once! With a tightly-constructed plot and a natural arc that leads directly to a satisfying conclusion, this is perhaps the best way for the show to be enjoyed. Whereas a show like "The Office" is more a collection of loosely-related comedic situations, "Doll & Em" is a focused examination of two women's lives, which gives it the feel of a very long movie rather than a traditional sitcom. It's no secret that our society has grown fond of binge-watching (Thanks, Netflix!), so audiences should be pleased with the compact nature of this comedy. So curl up on your couch (or get in your jacuzzi with some champagne, like Em), and get crackin'.
3. "The Comeback" + "All About Eve" x "Extras" / "Louie" = "Doll & Em"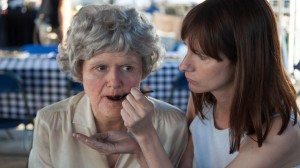 Bear with me while I break that equation down for you. Much like Lisa Kudrow's tragically short-lived laugh-riot "The Comeback", this show focuses with awkward realism on the career of an aging starlet as she struggles to stay relevant in the very cruel world of Hollywood. If you combined "The Comeback" with the upstaged-movie-star plot of "All About Eve," multiplied it by the scathing industry satire of HBO's "Extras", and then divided all of that by the thinly-veiled autobiography of "Louie", the end result would be "Doll & Em". The fact that one show is able to combine so many varied influences into one cohesive whole is impressive by itself, but it's also a valuable asset, as it means the show should appeal to a wide demographic of viewers.
2. Celebrity cameos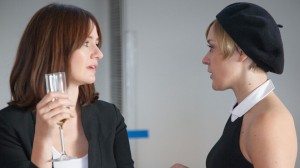 Speaking of "Extras", "Doll & Em" has one other thing in common with that terrific sitcom: it's stuffed with hilarious celebrity cameos, all playing a fictionalized version of themselves. These cameos include Chloë Sevigny as Em's overeager costar (pictured left), John Cusack as an affable goofball, Andy García as an intimidating actor in need of a new assistant, and, most memorably, Susan Sarandon as a pot-smoking tiger mom.
1. Emily Mortimer and Dolly Wells are absolutely fabulous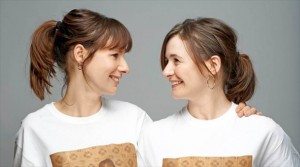 In "Doll & Em", Dolly and Emily are best friends, one of whom is a famous movie star. In real life, Dolly Wells and Emily Mortimer are best friends, one of whom is a famous movie star. See the parallels? The two life-long besties created this barely-fictional show together, and in addition to starring in it, they also wrote every single episode (with co-writer Azazel Jacobs, who also directed the whole season). This faux-autobiographical style is a popular trend among actor/writers at the moment, from Louis C.K.'s beloved FX comedy "Louie" (where the awkward stand-up comedian stars as an awkward stand-up comedian) to Lena Dunham's "Girls" (where the twentysomething hipster who wants to be the voice of her generation stars as a twentysomething hipster who wants to be the voice of her generation). If you do this, the inherent danger is that audiences will start to identify you as your character. Dunham suffers a great deal from this: many viewers can't seem to separate their disdain for Hannah the character from Lena the writer. It will be interesting to see how some of those same HBO subscribers will react to Emily Mortimer, star of "The Newsroom" on the same network, acting like a spoiled brat.
In our opinion, watching the beloved and adorable Mortimer-as-Em parade around the show with her mix of impeccably-accented charm and oblivious privilege is half the fun of the show. The other half is in watching the previously unknown Wells stealing the spotlight from her famous bff. In a meta twist on the "All About Eve" plot, Wells actually does upstage Mortimer here. Mortimer is hilarious, but it's Wells that grounds the show and gives "Doll & Em" its identifiably human heart.
Whatever the reaction from the general public, it cannot be denied that both Mortimer and Wells are absolutely fabulous in their roles, and have filled their show with experience that is obviously culled from real life. "Doll & Em" may be fiction, but the real Doll & Em have actual history, and their natural chemistry is a joy to watch. The story of two close friends finding their relationship tested by careers, jealousy, poor communication and pent-up resentments will be familiar to any viewer, regardless of whether or not they've ever been a movie star -- or been best friends with one, at least.
Will you be watching "Doll & Em"? What faux-autobiographical show is your favorite? Tweet us @Stagebuddy to let us know!