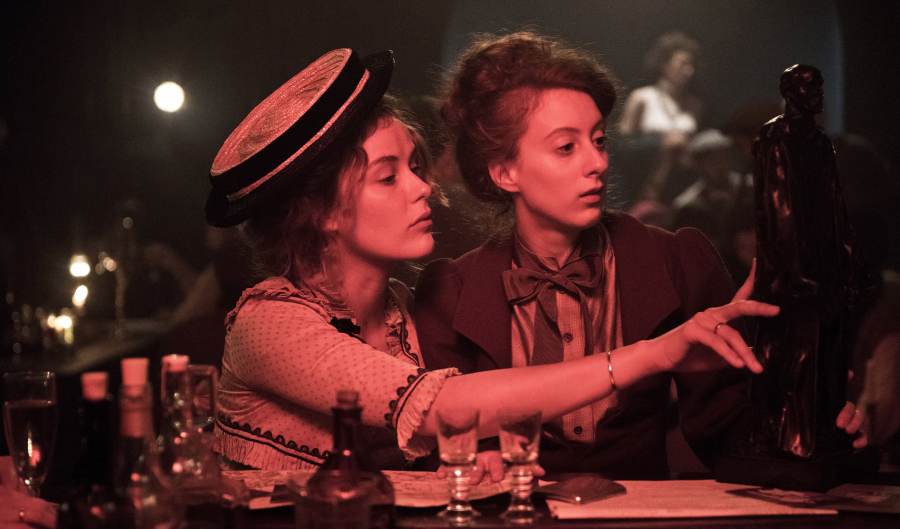 In Christian Schwochow's Cracks in the Shell from 2011 a young drama student, belittled by her drama teacher, goes on to win the leading role in a play and takes her method acting to dark, dangerous places. In Schwochow's new film Paula, young artist Paula Modersohn-Becker (Carla Juri) is also dismissed, and mocked, and insulted by her tutors and contemporaries. But Paula's woes are tied directly into turn of the 20th century attitudes towards her gender. Expressing frustration and unhappiness leads to whispers of having her committed for that misconceived malady: hysteria. Paula was an artist at a time when even the most free-spirited cooperatives considered a woman of artistic ambition to be capricious, fickle time wasters.
The moors of Lower Saxony's Worpswede, the German artists' colony that began in the years leading up to the 20th century, for a time had the cream of creative talent skimming off them; landscape painters and colony founders Otto Modersohn (Albrecht Schuch) and Fritz Mackensen (Nicki von Tempelhoff), sculptor Clara Westhoff (Roxane Duran), poet Rainer Maria Rilke (Joel Basman) and for a short time from 1900, impressionist painter Paula Becker (later Paula Modersohn-Becker after her marriage to Otto). Mackensen's enraged instruction to new student Paula is to "portray nature exactly as it is", unsurprising given that he later joined the Nazi Party. Paula and her close friend, and fellow student, Clara push on regardless. Paula is determined to be guided by her instinct. By 30, she wishes to have "three good paintings and a child". Her marriage to successful painter Otto is fruitless in this last regard, as Otto has fearful notions that prevent putting in the necessary work. Though kind to her, his "hands like spoons" comments regarding her portraiture chip away at the odds that never quite add up to marital bliss.
So off she goes to join her friends Clara Westhoff and Rainer Maria Rilke in Paris. Here she finds much more artistic freedom and a pretty boy lover Georges (Stanley Weber), but the wrench of what she has known and loves, puts a grievous weight upon the cross-shaped easel she bears on her back. While the inspiration and creation of Paula Modersohn-Becker's work is given substantial attention, it seems like a lost opportunity that this biopic didn't take more of an aesthetic direction from the artist herself. Paula is sumptuous looking, but alluringly bold and puerile composition such as hers might have brought us closer to the character. Nevertheless, Stefan Kolditz and Stephan Suschke's script, which took decades to complete, is emotive and mischievous. Juri as Paula demonstrates tremendous courage and humor, despite the pitfalls and disappointments that befall her. It is a vivid performance. Schwochow's cast of characters have avoided the too-stiff primness of so many historical portrayals, ensuring that complexity coexists with propriety.