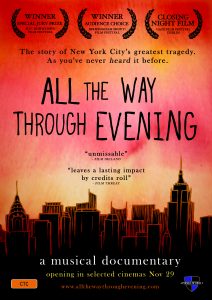 "The story of New York City's greatest tragedy.  As you've never heard it before."  That's how filmmaker Rohan Spong advertises his new documentary, "All The Way Through Evening".  A fascinating blend of documentary and concert recording, "Evening" chronicles the efforts of Mimi Stern-Wolfe to produce a concert featuring the compositions of AIDS victims -- who were also her personal friends.  It's both a study of the devastating impact of the disease as well as a celebration of one woman's unflagging efforts to honor the memory of lost loved ones.
The decision to tackle the weighty subject of AIDS through the lens of music is a stroke of genius.  A documentary that consisted solely of subjects talking about their family and friends wasting away would be supremely depressing.  A concert film of this music would be beautiful if meaningless without the context of the composers' life stories.  But put the two together, and you get a memorable juxtaposition: a mournful-but-uplifting tone that is by turns chilling and poignant.  Knowing that such beautiful art was created in the midst of such tragedy enhances the meaning of the music.  And experiencing the legacy these men left behind helps ease the pain of their passing.  It's a double-edged sword that Spong utilizes to perfection.
"Evening" never attempts to be an exhaustive study of the widespread effects of an epidemic on the global community.  The film focuses on a specific group of friends in a specific neighborhood of a specific city.  But the detail that comes with such specificity helps the audience grasp the enormity of the situation.  And so, through the story of these composers, we get a much clearer picture of the crisis than would be possible through a more general approach.  When one subject mentions that he personally knew at least 35 people who died of the disease in the span of a few years, it's a sobering moment.  Most of us can't name that many people we know personally who have passed, much less that have all succumbed to one affliction.  Those left behind have essentially survived a war.  It's small wonder, then, that Stern-Wolfe is still so committed to keeping the memory of her friends alive.
The AIDS crisis is a period in our history that has largely gone unrecorded by mainstream entertainment.  Apart from some notable exceptions (Tom Hanks' Oscar-winning turn in "Philadelphia", the hit musical "Rent"), it's essentially a forgotten war.  "All The Way Through Evening" premiered in NYC on World AIDS Day in 2011, and played in Spong's native Australia for an unprecedented 13-weeks.  But it has yet to secure a sustained run in the United States outside of festival screenings.  Fortunately, the recent spate of AIDS-related films (the documentaries "Act Up!" and "How To Survive A Plague", as well as the recent film "Dallas Buyers Club") have increased interest in the subject matter, finally allowing "Evening" the opportunity to be seen that it so richly deserves.
"All The Way Through Evening" opens on December 6th at Village East Cinema (2nd Ave at 12th St).  Read our interview with director Rohan Spong here.
[youtube]https://www.youtube.com/watch?v=XFJddhvJRcc[/youtube]